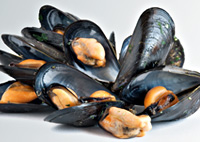 The Food Standards Agency in Scotland is putting out a research call to review the current evidence for the use of indicator shellfish species. This will be for biotoxin and chemical contaminants monitoring in Scottish shellfish production areas.

The desk-based research study will be to provide evidence and information on the possibility for the use of a single shellfish indicator species for biotoxin and chemical monitoring in Scotland.

The results will inform future monitoring regimes, to ensure that public health is not compromised from the consumption of any shellfish species harvested from classified harvesting areas.

Background on shellfish

Shellfish (bivalve mollusc) feed by filtering plankton from the surrounding water that washes through their habitat. This feeding mechanism leads to the accumulation of marine biotoxins produced by certain species of plankton.

It may also introduce, into the shellfish flesh, environmental pollutants from the surrounding waters such as:

• dioxins
• polychlorinated biphenyls (PCBs)
• heavy metals (trace elements)
• polycyclic aromatic hydrocarbons (PAHs)

The accumulation potential of the shellfish species used for food is particularly relevant in the case of marine toxins, which when consumed can cause human illness, and environmental contaminants such as chlorinated dioxins and PCBs.