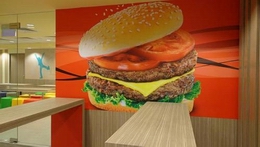 Popular fast food chain Jollibee, famous for its fried chicken dish Chickenjoy, will be opening its first outlet in Singapore next Tuesday. It will be located on the sixth floor of Lucky Plaza.

Jollibee originated from the Philippines and is the largest fast food chain there, with 780 outlets across the country. It currently has 92 other stores around the world in countries such as the United States, Hong Kong, Saudi Arabia and Qatar.

Besides Chickenjoy, it is known for its Yumburger, a beef burger. Another popular dish is the Jollibee Spaghetti, served with sweet tomato sauce and cut up ham and sausage pieces.

The outlet in Singapore can seat up to 300 people.