Fried fa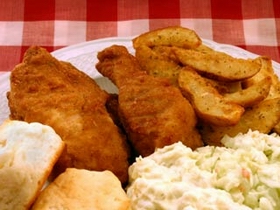 re tops the list of good-for-the-soul foods. But the classic comfort favorites like fish sticks and french fries have recently been upstaged by never-before-fried items like Oreos and pickles. It left us wondering: What's next? Herewith, five foods that have made fried strides, from the reasonably healthy-ish to the downright decadent.

1. Bagels

You heard right. The breakfast basic is basic no more once dipped in batter and basked in oil. The "fragel," as its creators at Michigan's Bagel Factory call it, is a twist on a sweet morning treat, making muffins look like yesterday's baked goods. Cinnamon raison bagels are battered, deep fried, then rolled in a cinnamon sugar mix. Yum!

2. Strawberries

Naturally sweet, strawberries taste great from the vine, but we think they taste pretty amazing fresh out of the fryer too. Cover berries in flour and dip into an egg mixture made with milk and vegetable oil. Get frying and within no time you'll have a delicious dessert. Drizzling with milk or white chocolate ups the calories, but also the flair.

3. Cauliflower

Getting kids to eat their veggies just became a little easier. Of course, steamed cauliflower is better for you, but the fried variety still packs a nutritional punch, containing good amounts of fiber, vitamin C and potassium. You can up the health factor even further by using whole-wheat flour.

4. Biscuits and Gravy

The man behind fried beer graces us with yet another gluttonous good: fried biscuits and gravy. This all-American favorite becomes a pocket full of goodness in its fried form. Instead of topping the biscuits with rich, finger-licking gravy, you fill them -- kind of like a savory take on a cream puff. Tip: The thicker the gravy the better, as frying will thin out the filling.

5. Pizza

Mama mia! This non-traditional way to serve up a slice may have some pizza purists ready for a fight, but we say take a bite first and maybe you'll change your mind. To make it at home, prepare the pie dough and fixings as usual, but instead of rolling it out to a large circle, make multiple servings and fold the toppings in like a calzone. Dip in an egg batter and fry away!