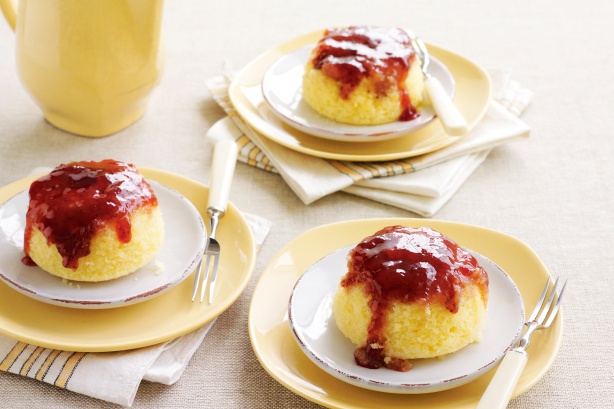 Ingredients

• Melted butter, to grease
• Plain flour, to dust
• 160g (1/2 cup) strawberry conserve
• 100g butter, at room temperature, chopped
• 100g (1/2 cup) caster sugar
• 1 teaspoon vanilla essence
• 1 egg, lightly whisked
• 115g (3/4 cup) self-raising flour
• 125ml (1/2 cup) milk
• 40g (1/4 cup) plain flour
• Icing sugar, to dust
• Vanilla custard, to serve

Method

1. Preheat oven to 170°C. Brush six 185ml (3/4-cup) capacity ramekins with melted butter to lightly grease. Dust with plain flour. Divide the conserve evenly among the ramekins.

2. Use an electric beater to beat the butter, sugar and vanilla in a small bowl for 8 minutes or until pale and creamy. Add the egg and beat until well combined.

3. Transfer the mixture to a large bowl. Add the self-raising flour and half the milk. Use a wooden spoon to stir until well combined. Add the plain flour and remaining milk, and stir until well combined. Divide the mixture evenly among the prepared ramekins. Smooth the surface. Cut four 15cm squares of non-stick baking paper. Place over the ramekins and secure with unwaxed white kitchen string.

4. Place the ramekins in a large baking dish and pour enough boiling water into the dish to reach halfway up the sides of the ramekins. Cover the dish with foil. Bake in oven for 30 minutes or until a skewer inserted into the centres of the puddings comes out clean.

5. Remove the ramekins from the dish. Set aside for 5 minutes to cool. Run a flat-bladed knife around the inside edge of each ramekin. Turn the puddings onto serving plates. Dust with icing sugar. Serve with custard.