Salad spec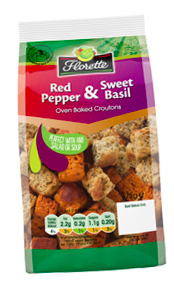 ialist Florette is adding crunch to its product line-up, by introducing a range of duo-flavoured Croutons to its portfolio.

In a bid to bring growth to the category, Florette has teamed up with Symingtons to launch two new 75g bags of croutons that feature two different flavours in a pack.

These come in the flavours of Red Pepper & Sweet Basil and Italian Cheese & Sundried Tomato.

It is the first time that a duo-flavoured crouton offering has been brought to retail; a move which the salad company believes will enliven the category and further inspire consumers to become more creative with their salads.

Sandy Sewell, Commercial Director for the salad brand, said:

"Croutons are very much a part of the salad occasion; by entering the crouton market, we are able to offer consumers a point of difference and excite them with a new style of product.

"We anticipate the launch of our duo-flavoured croutons will help to attract new customers to the category and entice regular salad eaters to try something new and different."

Florette's crouton range comes in 75g bags retailing at an RPS of £1.20. Products are available in selected Asda stores now.