Global pro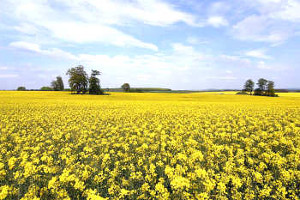 duction of seven major oilseeds will be larger than forecast last month as consumption is set to lag behind output for a third year, Oil World said.

Combined production of oilseeds including soybeans, rapeseed and sunflower will reach a record 507.2 million metric tons, 2.2 million tons higher than forecast five weeks ago and 18.1 million tons more than the previous all-time high last year, the Hamburg-based researcher said in an e-mailed report. The third consecutive surplus will leave stockpiles at the end of 2014-15 at 99.6 million tons, 18 per cent more than a year earlier.

"The most outstanding increase in oilseed production is set to occur in the USA, where excellent weather conditions are seen resulting in record yields per hectare not only in soybeans but also corn," Oil World said. "A record oilseed crop has also been grown in the European Union this year."

Soybean production globally may rise to 306.7 million tons, up from 284.6 million tons in the prior season, with the US crop, the world's biggest, accounting for 103.85 million tons, according to the report. Futures fell 21 per cent this year on the Chicago Board of Trade.

Global production of rapeseed and canola will decline to 68.7 million tons from 69.7 million tons, Oil World said. The harvest in Canada, the top exporter, is expected to decrease 20 per cent from the prior year to 14.4 million tons, still bigger than Statistics Canada's forecast last week of 13.9 million tons, according to the report. EU output will reach a record 23.54 million tons from 21.25 million tons a year earlier amid increasing harvests in Germany, France, Poland and the U.K.

Rapeseed Futures

Rapeseed traded in Paris dropped 12 per cent this year, with futures coming "under considerable pressure, partly due to spillover weakness from soybeans as well as from vegetable oils," Oil World said. "Farmers have become reserved sellers in Europe and Canada. We expect only little additional downward potential, but rather see rapeseed prices building a bottom."

Sunflower seed production globally may total 41.59 million tons, about 1.2 million tons higher than previously expected, while still 2.1 per cent smaller than the past season's harvest, Oil World said. Combined output in Ukraine and Russia, the top two exporters, will be 20.7 million tons, near the record 21.05 million tons achieved in 2013-14. The EU's harvest will total 8.2 million tons, bigger than previously expected while below last year's output at 8.86 million.

Oil World's combined figure for oilseed production takes into account seven crops, including groundnuts, or peanuts, palm kernels, cottonseed and copra, or coconut kernels.

"Groundnut prices are probably on the verge of appreciating significantly" because of smaller crops in China and India, the biggest producers, Oil World said. India's groundnut plantings as of 21 August were 14 per cent smaller than a year earlier on "scanty rainfall." In China, dry weather may cut the area by more than 20 percent, it said.