World premiere for urban agriculture
The independed testing insitute, SGS, now has the first indoor farm operator certified according to Global G.A.P. The Berlin-Based company INFARM develops and operates indoor greenhouses for supermarkets. With their new technology, herbs, leafy vegetables and lettuce are grown and harvested directly where consumers buy their food: in the store. In the closed systems the plants are automatically fed light, nutrients and water. The first "in-store farms" are in operation in Metro Cash & Carry stores in Berlin and in Makro in Antwerp.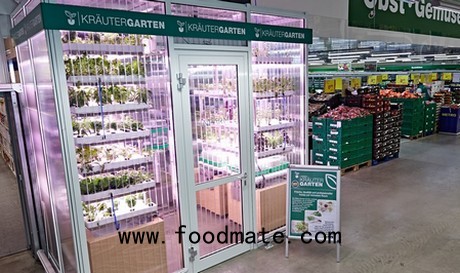 SGS certification is an important step for developers. It confirms that the indoor farms are operated according to good agricultural practice and are supervised by an independent control centre. Many supermarkets demand a valid Global G.A.P certificate from their agricultural, horticultural and aquaculture suppliers before they include their products in store. At this year's Fruit Logistica in Berlin, the SGS inspectors officially presented the certificate to INFARM.

Unusual inspection criteria in vertical agriculture
"Since fruits and vegetables are normally inspected according to Global G.A.P criteria, we first had to adapt this criteria to be applicable for the in-store farms" says Betina Jahn from the certifier SGS. "Our specialists have worked together with the FoodPLUS standard supplier. The result is a robust approach which can also be applied to future indoor farms.