Dutch company Modiform have been making products for the horticultural sector for almost four decades and work from 4 locations in the Netherlands. The company is now making a move into the fresh produce sector with their new brand 'Eco-Expert'.
"A year and a half ago we saw that a Scottish company, Cullen Packaging, was using pulp from recycled paper and cardboard to manufacture packaging for fresh fruit, vegetables and mushrooms," explains Shaun Herdsman, Divisional Manager. "Initially we were interested in manufacturing horticultural products from the pulp they produced and have been working on that for a year and half and are developing some products now in trials."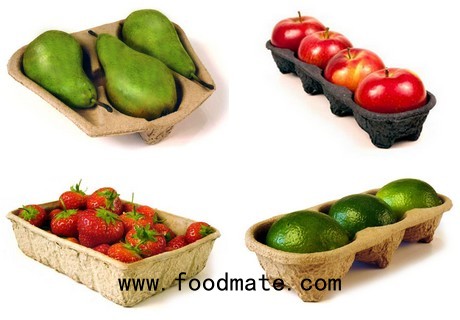 "We then got talking to Cullen about the fruit and vegetable packaging products which they manufacture, they wanted to get into Europe with them and we were interested in supplying these products in Europe so we decided to work together."
Cullen started to make packaging for fresh produce three years ago and have done really well in the UK, with clients which include the big supermarkets, who are really interested, as it is 100% recycled and bio degradable.
Modiform is already set up to manufacture and distribute horticultural products and has warehouses with a capacity of 40,000 pallets in The Netherlands and established distribution channels, as well as sales people throughout Europe. A lot of fruit packing and re-packing gets done in the Netherlands as it a logistical hub and a big distribution centre for products going all over Europe.
Modiform is now the European distributor for Cullen Packaging and are offering around 30 different products for fruit and vegetable packaging, which they call Eco-Expert.
Modiform and Cullen had a stand at Fruit Logisitca and are following up a lot of enquiries and now Modiform are launching the product in the European market. The company will fill their first order this week and according to Shaun there has also been a lot of interest from the Bio/organic sector.