A true explosion of flavour that can exalt excellent products as part of the luxury food segment. Pure Stagioni products are preserves with no added sugar. The company was established in 2014 and processes selected fruit to make high-quality products.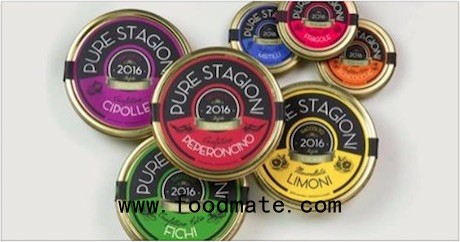 Each label reports the year the fruit was harvested, just as for wines, as every season has its own specific characteristics, producing fruits that are traced in a unique way.
Owner Federico Marinelli (in the photo) explained that "another special choice was that of placing the preserves in metal tins. A mint-condition 5 eurocent coin, supplied together with the product, is needed to open them."
"We needed to find an innovative container that not only improved the appearance of the product - which is very important in the luxury segment - but that also made it possible to maintain quality unaltered."
The idea behind this range is part of the brand's growth and development plan and also represents its corporate philosophy, i.e. to experiment, innovate and create new evocative products to catch the attention of consumers looking for something new.
The range includes a large variety of healthy products and is made up of 31 labels in 71 variants - there truly is something for everyone.
In the photo: among the new products presented at Taste 2017, there was an elegant black gift box that can contain up to 4 single-serve Pure Stagioni jams.
Genuine authentic products, processed to maintain the qualities unaltered and exalt the flavour. A return to the past, to when fruit and vegetables were processed with simplicity and care to preserve their freshness over time.
Less is more is the company's mantra - few ingredients but of an excellent flavour! Only natural ingredients are used - fruit, vegetables and sugar with no added pectines, preservatives or colourings.
Each strawberry preserve contains 128 grams of fruit for every 100 grams of finished product. The sweet line is made up of 9 flavours - apricot, strawberry, fig, lemon, blueberry, red currant, blackberry, orange marmalade, cocoa spread and chestnut spread.
There is also a line suitable for savoury pairings made up of tomato mustard, peach mustard, chilli peppers and onions.
The fruit is checked during each and every phase, from sowing to harvesting, in order to guarantee the excellent quality of the product even when it's not in season.
"All our preserves are made in our lab in Florence. Around 20 thousand tins made according to the best Italian tradition using only fruit and sugar."
The produce is processed using state-of-the-art technologies so as to preserve all its fundamental organoleptic qualities. It is handled as little as possible, especially during cooking, which is carried out at a high pressure and low temperature to preserve its colour, consistency and properties.
"Preserving means maintaining the characteristics of the product unaltered over time. Having high-quality produce is not enough if it's not preserved correctly."
"This is why we use metal tins, as they keep the product away from light preserving its freshness, flavour and aroma."
"Our products are available all over Italy and especially in selected delicatessens and small Conad stores in Tuscany."
"Abroad, our products are available in Canada, Portugal and Austria. We are growing and noticing how Italian products are appreciated abroad every day. The processed produce segment is doing quite well at the moment, as these kinds of products are popular all over the world."