Cauliflower and broccoli belong to the cabbage family. Worldwide, China and India are the largest broccoli and cauliflower producers. In Europe, Italy, Spain and France are important producers. Cauliflower and broccoli are competitors in the cabbage segment, but today they are also regularly sold together. The Dutch and British are large cauliflower consumers.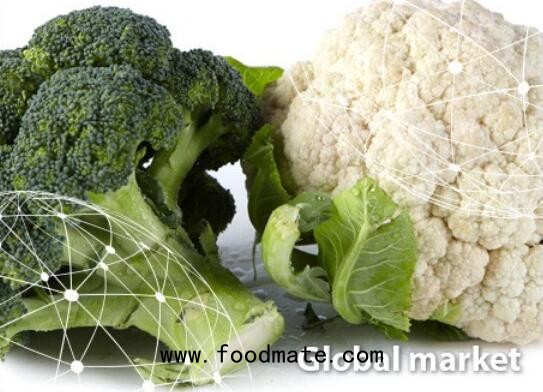 China
China produces more than half of the total volume of broccoli and cauliflower in the world. The most grown broccoli varieties in China are the Excellent, Future and Divine Green. 90% of the production is consumed fresh, while the other 10% is processed. China's broccoli and cauliflower production grows by about 20% every year. The largest broccoli-producing region is Shandong and the main locations are Tai'an City and Laiyang City. At present, production has decreased slightly and prices are above average. The spring weather is colder than normal, which is good for the crop's cultivation and quality.
United States
There is little cauliflower and broccoli available in the US state of Tennessee. This has been the case for a long time. Over the last four to six weeks, there has been less supply because of the impact of rainfall and bad weather. Compared to the same period last year, the volume has fallen by about 75%. Prices fluctuate very much, from 40 to 60 dollars FOB. If it continues to rain, the cultivation of the products will become more difficult and prices will also change.
South Africa
Three weeks ago, cauliflower and broccoli prices were very high, reaching levels that are not often seen. There was very little supply on the market due to heavy rainfall this year, which led to losses, diseases and problems with the harvest. The situation has been improving for several weeks, especially for broccoli. There is sufficient supply and the demand is not so high, so prices have fallen considerably. Due to drought and disease, production in certain South African areas is under pressure; this is the case, for example, in KwaZulu-Natal, the Eastern Cape and the Western Cape. However, there are currently cooler weather conditions across the country and this is expected to lead to a higher cauliflower and broccoli production.
Italy
At the end of Easter, the demand for cauliflower was good and prices recorded increases, especially in the areas of Naples and Metaponto. Prices in Latina and Salerno remained stable. By week 15, the harvest had already come to a close in the various production areas. From January to late February, prices in Metaponto were high due to a shortage caused by the weather conditions. Prices then continued to fall until the end of March. In Sardinia, growers are satisfied with the season. Prices were high, especially in January. As the temperatures rose, prices fell again.

Spain
Broccoli is an important crop in Spain. So far, the season has been very good. According to an exporter, prices have been extremely high. Spain will export broccoli to northern European countries for about a month. This year, the export season is expected to finish earlier than usual, as traders will soon switch to local products. A major competitor in the broccoli sector is Italy. Spain is also seeing a steady increase in the product's consumption.
France
The 2016/2017 cauliflower season has been hampered by drought in summer, heavy rainfall in spring and frost in winter. This has greatly reduced the cauliflower production. The season kicked off in June last year and, compared to the previous campaign, production has decreased by about 16%. Prices from June to January were quite stable. In February, the production from Brittany hit the market and prices dropped substantially.
Belgium
West Flanders grows a lot of broccoli and cauliflower and the production is intended for both the fresh and processing markets. In Flanders, the acreage devoted to cauliflower used to be very large, and even though it has fallen sharply, there is now a rising trend. In Belgium, cauliflower is consumed mostly by older people. The popularity of this product is increasing, but not as much in hot preparations. Young people mostly prefer to eat cauliflower cold; as a snack, for example. Cauliflower prices have been pretty good this week for all varieties.
The Netherlands
The cauliflower market is currently developing quietly. The supply of cauliflower is not that large, but the demand is also not that great. Prices range between 5 and 7 Euro. The bulk of the supply comes from France and Spain, supplemented with a limited volume of Dutch winter cauliflower. The French season is coming to an end. For a long period, good prices were paid for French cauliflower because of the low volumes available, but this was followed by a huge supply, which caused a turnaround in the situation. At present, there is mainly Spanish supply on the market. Given the volumes, it would be logical to expect a price revaluation, but this has not been the case. Spain is currently the main broccoli supplier on the European market. Before Easter, broccoli prices were scarily high, but now the product is back in stock and the price paid per box stands at 6 to 8 Euro.

Israel
At Easter time, vegetable consumption in Israel is traditionally very high. Producers and traders are aware of this, but they are not always able to prepare for this huge demand, as it is a period in which not every crop's production is in full swing. As a result, prices are often high around this period. In any case, cauliflower and broccoli have not been affected by this and no extreme prices have been recorded this year. These vegetable are grown in almost every region of Israel. For broccoli, the total acreage amounts to more than 1,000 hectares, while that devoted to cauliflower stands at over 2,500 hectares. The stable supply has ensured stable prices. Broccoli cost around 3 Euro per kilo and cauliflower between 1.50 and 2 Euro per kilo.
Malaysia
In Malaysia, the broccoli available comes from Australia and is of very good quality. There is also Chinese broccoli, but at a lower price. Broccoli is an important vegetable for Malaysian dishes and the demand is rising. There is also a lot of interest in organic broccoli. Other sources report that Malaysian consumers prefer imported products because they find them tastier.