During the Interpack, the Fuji Flowpacker type Alpha 8 was introduced by Dijkstra Vereenigde. This machine is equipped with the latest technologies. The Alpha 8 has been developed and built with two things in mind: return and savings. These spearheads and the user friendly control panel result in a machine that can really make a difference in the fresh produce sector.
The Fuji Alpha 8 has a very short film throughput. Because of this, very little film is lost during the changing of products. The Fuji flowpacker can also create very tight packaging. The use of narrower film is possible, but the loss in the cut-off length is limited as well.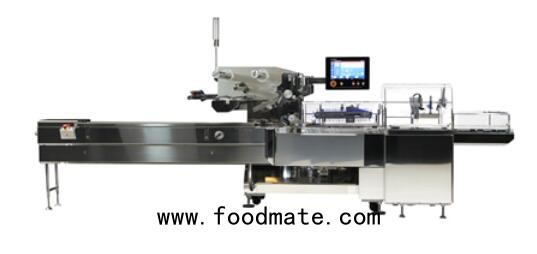 The flowpacker has been built with high-quality materials. Because of that, the moving parts will last much longer, and maintenance has been limited to a minimum. Everything is directly servo-driven, and the machine contains no gearwheels. Moreover, the centre-seal rolls contain no slip rings and are therefore free from maintenance.

Quick and easy product change
The control panel guides the operator through the product change. By means of a 'check off' menu, clear images show what has to be mechanically adjusted. Because of that, no steps can be forgotten, and the first packaging, directly after readjusting, will be perfect. This makes it very easy to change from, for example, a single bell pepper to a traffic light packaging.
Furthermore, the packing machine also checks to see the product matches the packaging set up. In that way, you can't accidentally pack different products in a film meant for bell peppers. This results in a very small loss of film, and mistakes in the production process are prevented.