While finishing her PhD in colon cancer, Astrid Friborg became increasingly interested in the role that antioxidants can have in preventing a range of diseases, not only for cancer. It was at this point where her own personal passion for smoothies was born, starting with her making them herself at home.
"During my doctoral studies, back in 2007, I was listening to a lecture about a competition for new business ideas called Venture Cup and learning about winners of recent competitions and one of the companies ran a juice bar, which really caught my attention. I thought that a juice bar selling smoothies would be a great sales point, however, running a cafe in something like a shopping mall can get very expensive after you factor in the cost of rent, staff, not to mention the food waste that would be created. This is when the idea suddenly hit me, why not scale it down and produce a machine that can offer smoothies of the same quality and freshness, but without the shop." said Friborg.
Once she got home she looked online to see if there were any patents on a similar machine anywhere in the world and when she couldn't find anything she realised that she might be on to something.
Two years later, Astrid graduated with her PhD in 2009 and soon after she graduated, she was left with an agonising decision. A world famous professor at Stanford University offered her a research fellowship, but there was something about this business concept which should couldn't let go of, especially after conducting preliminary research and seeing the huge potential the idea held.
Offering as much local produce as possible in the smoothies, the recipes were developed with Nordic fruits in mind. There are three flavours available "Skogen" (forest), "Havet"(Ocean) and "Trädgården" (garden), highlighting the fruits found in theses areas in Sweden.
"I really believe that we have a superfood gold mine when it comes Swedish berries. It is so frustrating when you go to the supermarket and there are only packaged blueberries from Argentina with light flesh, when our own wild blueberries with a dark blue flesh grow abundantly. The more colour, such as black,blue and red, the more antioxidents there are in a fruit or vegetable," stressed Friborg.
"Consumers often tend to go with trends, such as goji berries, before looking into what is available around them. We are working on a some new smoothie flavours we would like to offer in the future, which uses even more types of local berries with antioxidant properties. It is important to us to stay ahead of the trends and not just follow them."
The vending machine design used by Berries by Astrid was developed by senior engineers who had previously worked with Tetra Pak, together with Friborg, with the goal of creating a system which is both hygienic and maintains the health properties of the fruits. The food is never in touch with the interior parts which virtually eliminates the risk of contamination
The smoothie is made fresh every week and packaged into separate bag-in-boxes, with a shelf life of 2 weeks. This means that the bags in box of the different flavours are pre-prepared and have been designed so that they can not be contaminated at any stage. The whole process takes a total of 8 minutes for the user to exchange the bags and clean the machine. The machine also doesn't need a water supply, it only needs to be plugged into an electricity supply, which makes it possible to put the machine anywhere, such as hotels, offices or shopping malls. It is completely unmanned with a touch screen payment function, so that consumers can have fresh smoothies at any time.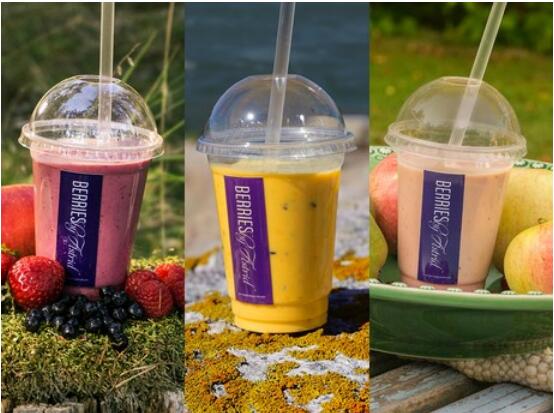 A global patent is pending for the design of the machine and the fact that there is nothing else like it for cold beverages, has started getting the attention of big international companies as an option for their drinks.
"It turns out that there was a need for a machine like this in the beverage industry all along, but no one had developed it before now. Machines for hot beverages have been around for a very long time, which rely on hot water for cleaning, but as soon as there is a beverage with protein in the machine, the hot water would cause it to coagulate, creating the risk of hygienic issues. So after being contacted by different international beverage producers, we have actually starting offering the machines for private label now as well, and I think that they could be very interesting for a range of beverage producers and we have the option to customise it to fit their specific needs."