A record number of start-up brands exhibited at this year's Sweets & Snacks Expo, showcasing such product concepts as pistachio brittle and mushroom chips. The latter product, offered by Porta Bela, Kennett Square, Pa., taps into several industry trends.
The vegetable chip category is booming, with sales up 17% over a year ago, according to Information Resources, Inc. Meanwhile, mushrooms are popping up in more functional food and beverage products, from nutrition bars to tea.
Rich in potassium, selenium and umami flavor, Porta Bela Chips are available in five varieties, including bacon guacamole, chorizo jalapeño, blue cheese and onion and garlic butter onion. Fresh mushrooms grown on the company's family farm are sliced and cooked using patent-pending technology. The chips are not dehydrated, baked or fried, and have an 18-month shelf life, said David Eberwein, head of business development and innovation.
The company produces a range of mushroom creations for food service, including spreads, burger and steak toppers and breaded appetizers. The chips were developed to make mushrooms more convenient to consume, Mr. Eberwein told Food Business News.
"Mushrooms are not a very convenient food to enjoy," he said. "You have to use them within a few days before they start to get slimy and spoil… This takes something highly perishable and creates something that has 18-month shelf life and is still all natural, no preservatives."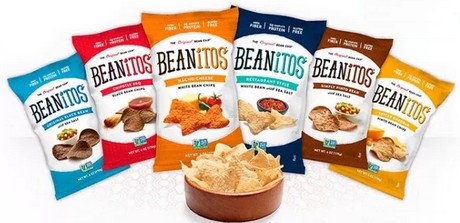 Another unique take on chips shown were, Beanitos, the Austin, Texas-based maker of savory snack chips made with black beans, pinto beans and white beans, is venturing into the sweet snacks segment with the launch of white bean twists in cinnamon and salted caramel varieties.
Evoking the trendy churro in form and flavor, the gluten-free twists list cooked navy beans as the first ingredient and contain 2 grams of protein and 2 to 3 grams of fiber per serving. The products also are Non-GMO Project verified.