During the CPMA in Toronto recently, Marco, a company which provides technology solutions for manufacturing and packing operations promoted their latest two products, the quality Control Module (QCM) and the Production Data Display (PDD).
QCM
The QCM is a configurable handheld system that ensures structured, time-based quality checks are completed and electronically logged. "QCM can be integrated with an existing Marco YCM system to add a quality rating to each operator's packing performance data."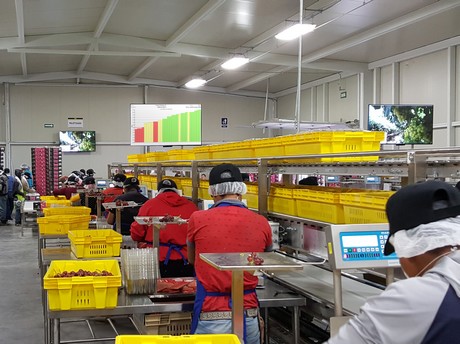 "By monitoring the key packer performance indicators of speeds, saleable packs, waste and quality, packing house management are able to easily identify their highest achievers and reward them accordingly. Retailers will also view the implementation of QCM as clear evidence their supplier is committed to delivering high quality and consistently packed produce," says Murray Hilborne.
The new QCM's key feature is that it will monitor the quality of the delivered product for each individual operator. This is in comparison to conventional QC checks, which monitor the quality of the product at the point of line output. This system rates the effectiveness of the Quality Controller based on how many tests were performed in comparison to their schedule and what ratings were applied. This in addition to scoring packers on their own individual quality control.

PDD
The PDD displays live production statistics as well as specific product messaging, communicating the all important technical requirements and essential operator warnings to ensure that the operation delivers consistency and quality to all the products.
"PDD has proven to deliver sustained improvement to the working practices used on the shop floor and allows each worker to view their and their coworkers current performance, as well as any historical data. The screens feature traffic light colouring that immediately rates current performances against preset targets, and compares it to the achieved average," a Marco spokesperson claimed.
This centralised informational tool is designed to enhance and improve overall packing line performance, and is particularly effective in factories where piece work dictates the pay rates of workers.