"As a retail platform for food, we purchase all kinds of fruit and vegetables from domestic and international production sites. Through both online and offline methods, we sell these products to Shanghai and surrounding areas. We have opened eight stores in Shanghai. The online sales area is in a radius of three kilometers around these stores. In the future, our sales area will expand to other first tier cities, such as Beijing and Shenzen," says Mr. Paul Xian Ping, Purchasing Director at Shanghai Hema.
Hema is a new premium retailer in Shanghai which opened its doors last year. Hema is 100% owned by Alibaba, and embodies the internet giant's new retail model, in which the company is moving into brick and mortar sales. The company is also pushing for rapid expansion in China.
"In the past few years, people have gained more knowledge about fruit and vegetables, and their quality of life has improved. Moreover, more and more foreign brands have made their way to Chinese production sites. While doing groceries, the consumer not only focuses on the price and the country of origin, they are also looking at the differences between products. That is why, when we purchase fruit, we mainly focus on the product's characteristics, by tracing down the production source, shortening the supply chain and improve the product quality, so that the product safety is guaranteed, and we will give the customer a better experience."
"With quality as the basic principle, we follow a strict management system for product quality. Firstly, we work together with a few well known international fruit suppliers. They supply their products according to our specific quality demands. Moreover, we cooperate with large scale Chinese fruit suppliers and retailers. By closely working together with these three domestic and international partners, we can manage our products most efficiently."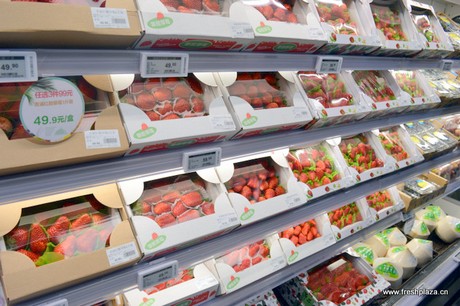 "When it comes to market promotion, I believe that the product itself is the best advertisement. In order to let the consumer completely understand our product, our employees in the stores will communicate with the consumer to inform them about the products, such as brands, the amount of sugar, and the production area. Moreover, our beautiful packaging shows the product's image to the consumer."
"In the past few years, through the improvement of production technology and beneficial national policies, the development speed of Chinese agriculture is great. The quality of domestic products is also rising constantly. Compared to imported fruits and vegetables, however, there is still a difference in quality. This is mainly because the international agriculture is scaling up. The production sites are large scale, intensive farms. In China, however, the production areas are widely scattered farmers. They cannot use the benefits of large scale production."