A brand new packing machine from Sorter, has been designed to make work easier for packing employees by making work more ergonomic and reducing unnecessary movements and strenuous physical tasks, such as carrying full boxes of packed products, which are transported on the top conveyor.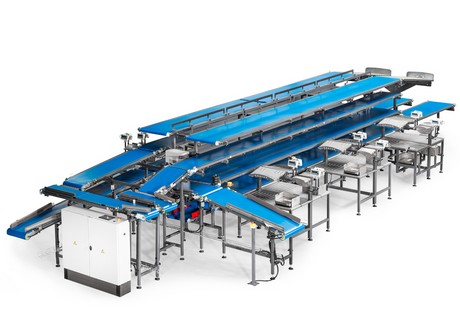 "Our new machine, the SPS-7-01, is a fully automated multi-level packing table for fruits and vegetables. At first glance, it is the size and the number of working stations that catches your eye. The table is a bit bigger than standard packing tables, which equals increased output. At each side of the table there are stations for 6 employees, so, when being used to full capacity, it can hold up to 12 people," shared Anita Kacprowicz from Sorter.
Though the table is a bit bigger than the standard packing table, it was designed in a way to save space and cater to companies where sorting and packing is carried out manually, with a number of different products. For example, half of the table can be devoted to sorting and packing fruit in cardboard boxes while the other side is busy packing tomatoes in punnets. The following day the products and packaging can change.
Each workstation is equipped with worktop rollers, whose task is to smoothly move the packaging with little effort by the employee. There is also a double scale set; with one scale designed for weighing products in punnet containers, boxes, cartons and trays and the second, which is equipped with a special handle, allowing you to weigh fruits and vegetables in bags.
The multi-level conveyors transport the packaged product to further stages of production, eg. to a central scales, to a flow-pack packing machine, etc. The empty containers are transported, by the highest conveyor, to the collection point, thereby reducing the need to leave the workstation to place aside empty containers in which the product was delivered prior to sorting.
The central conveyor steers the fruit into the collecting box, which means that the employee does not have to leave the workstation. All of the conveyors operate in automatic mode and there is an emergency stop button at each station in order to improve comfort and safety at work.
"We customise the table to suit the needs of each customer. In the past, customers reported that they wasted a lot of time preparing the stations for each product they produced, but now they are able to have one working station for various types of packaging, such as cartons, bags, trays and plastic packages, such as punnet containers," concluded Anita.