"This packaging machine for young fruit operates 5-7 times more efficiently than traditional manual packaging, which could lower the cost of manual labour by 70%. That is an estimated increase in profit of over 500 yuan [75.78 USD] per 0.07 hectare. In addition, after processing, the appearance and quality of the fruit is greatly improved. Chemical residues are reduced, as is the probability of plant disease or insect pests." This is according to Ms. Gu Li of Hao Guozi agricultural company.
"The packaging machine is suitable for fruit in its early stages. The optimum period is when the fruit measures between 3.5 to 4.5 cm in diameter. It can be used for small sized fruit with a diameter of 50mm and less, like apples, pears, pomegranates, kiwis, lemons, etc., as well as large sized fruit with a diameter of 80mm and less, or 120mm and less, like grapefruits, mangoes, grapes, etc. Apart from the packaging machine itself, our specialisation in packaging also includes functions such as protection against wind, water, leaking air, and automatic filtration."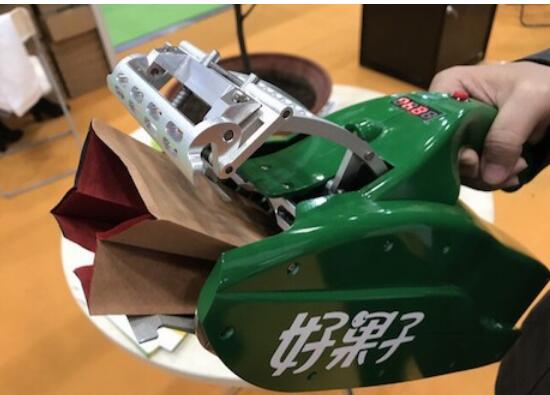 "The main office of this company is located in Chengdu, Sichuan, but the production of the packaging machine is completed in 8-9 production areas across the globe, with an overall surface area of more than 667 hectares. Our client group is extensive and includes sales companies for agricultural machinery, fruit packaging dealers, and significant fruit growers in main fruit producing areas. At present, over 500 dealers work for Hao Guozi in major fruit producing areas across the country. At the same time, we have signed an agreement of cooperation with Korean businesses. Furthermore, American, French, Italian and other foreign investors pay close attention to developments in our company."
"In the research and development stage of our unfinished products, we cooperated with such research institutions as the University of Electronic Science, Huazhong Agricultural University, and the International Agricultural Research Center LA'an Kuoye in Beijing, to guarantee the innovative nature of its technology. We cooperated closely over a long period. The packaging machine passed through long term research and development with a specialized technical team at Hao Guozi, and passed a million measured tests. The packaging machine is already in its fourth generation and possesses more than 120 patents, including more than 20 patents of inventions."
"Hao Guozi provides training and practice time with the machine in various locations. Customers indicate that the packaging speed is a lot faster than traditional manual packaging, and in addition, the process is more efficient. The machine is of great help to them in lowering packaging cost, and at the same time it is an improvement of quality and efficiency over manual operations. At present, our machine weighs around 400gr and lasts more than eight hours on one charged battery. Next year our fifth generation machine will also enter the market. The machine has improved abilities, it is even lighter and the battery lasts longer."
"The Hao Guozi agricultural company was founded in November, 2016. It is a business syndicate that combines internet, the packaging machines, and fruit retail. The company is devoted to food safety and the nutritional safety of fruit in China. It has established an organic company and forged an organic chain for fruit worldwide. We hope that the whole world pays close attention to scientific data from the agricultural business, and that businesses with capital structures have an interest in cooperating with us, so that together we may establish a safe and green industry."