Launched after the completion of five-year non-compete clause between Sadananda Maiya and MTR Foods, Maiyas Beverages And Food is all set to raise PE funds of around $20 Mn for expansion, according to BS.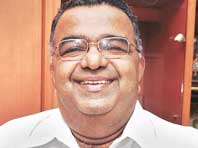 In 2007, when MTR foods was bought by Norwegian Orkla intitiated by JP Morgan and Aquarius for a profitable exit, also came out with a non-compete clause for five years, which prohibited Maiya to enter the packaged food segement. The clause expired in April 2012.

Maiya Food which sells ready-to-eat food under brand name Maiyas is aggressively focusing on the market across South India. Sadananda started business expansion with an aggressive R60 Cr investment in a fully automated factory on 20 acres in Bangalore. A part of that investment was made through a short-term debt from a bank.

According to the business plan, Sadananda would first roll out a range of spices and, subsequently, instant mixes. This would be followed by ready-to-eat foods and frozen foods. Maiya's Beverages and Foods has already rolled out 80 stock keeping units (SKUs) and is slated to touch the 300-SKU mark in a year.

India's ready-to-eat foods market is now worth around R800 Cr and is growing at an average 15% year-on-year.

In the space, GTI Capital invested an undisclosed amount in Brattle foods to expand its facilities; Ambit Pragma acquired 74% stake in Mehta Frozen Foods Carrier, earlier in July.

In May, General Mills Inc acquired Pune based Parampara Food Products for an undisclosed amount.

Parampara Food is engaged in manufacturing of ready-to-cook spice and sauce mixes.