"The demand is enormous for our new red pineapple. After the publication in Freshplaza, we received emails from importers and producers from all over the world who were interested in this new fruit. Two groups of people are showing an interest: For example, importers, wholesale and retail, are asking for small numbers, but some are wanting huge amounts of red pineapple. The other groups are producers everywhere in the world who are interested in trials, but it's really hard to control the patent", states Pedro Nahoum the CEO from Botanica Pop in Brazil.
Botanica Pop has spent years developing genotypes which differ from those of traditional pineapples and has obtained two new varieties, called Cesar and David. The producer was impressed by the interest from the retail and wholesale, which convinced him to talk to the government. "We spoke about the huge demand, the opportunities and luckily they got convinced. At this moment we have the support of the Brazilian federal government and the Rio de Janeiro government."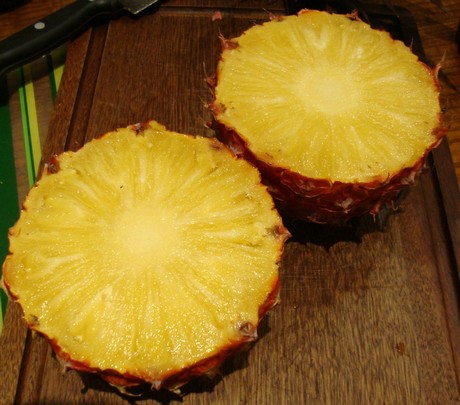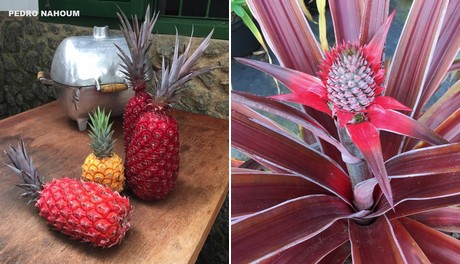 "We are developing a plantation in the Rio de Janeiro state. Moreover, the government gives the freedom to decide who we would like to work with when we are expanding this project outside Brazil. We have some potential options in Costa Rica and Asia to produce our variety. However, the idea is to first develop a big and growing local production to supply the world market. For now, the university is helping out and as well agricultural ministry has technical people working on this.
He continues: "First we thought the demand was just because the innovation in fruit colour, however, the scientific community has found out that the pigment anthocyanin, responsible for the dark red colour of our new pineapple varieties, is a strong natural medicinal compound with action against different cancer forms, now proven by over 600 indexed scientific publications."
"As all pineapple cultivars were already known to contain the enzyme bromelain which benefits human health, the whole nutraceutical potential of the red pineapples certainly is a reason why the government decided to support this project, and are seeking to increase the activities. The business plan at this moment says we have to increase our planted area 30 times during the coming years. It would be great if we could establish a cooperation with a group of companies and producers with the same ideas about the export strategies."
The idea is to sell these red pineapple varieties as premium fruit. "People are trying to push the prices down, as normally pineapple is a commodity fruit. However, our intention is to commercialize these red varieties as premium fruit, but that comes with a price. For now, the production is only small and we don't have yet the commercial volumes available. The plans are big and it will take a lot of investment. We believe that it's worth the investment, as the potential is huge", concludes Pedro Nahoum.