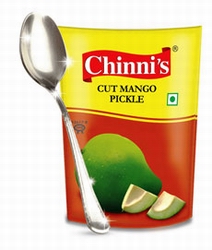 Chinni's Pickles from the FMCG conglomerate CavinKare has launched an offer - a spoon along with every 160 gm or 70 gm standee pouch.

The offer is valid until stocks last and is available across all retail and kirana outlets in Maharashtra, according to a press release by the company.

The product was launched in 2003 as a hygienically and conveniently packed offering. It is packed in bottles, standee pouches and sachets in various sizes. The range is available in five variants which include mango, mixed vegetable, lime, green chili and khatta meetha aam. They are priced at Rs 10 for 70 gm standee pouch , Rs 20 for 160 gm standee pouch, Rs 45 for 280 gm jar, Rs 55 for 340 gm jar (only khatta meetha aam), Rs 70 for 500 gm jar and Rs 110 for 1 kg jar.