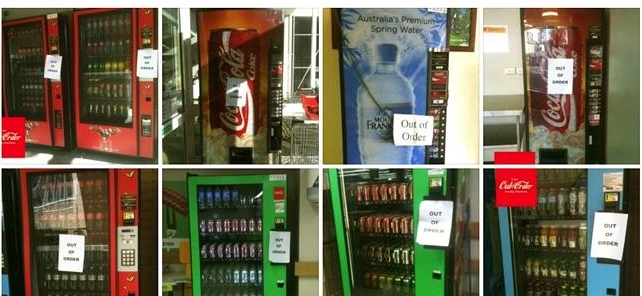 Earlier this month the Federal Court ruled the Northern Territory's container deposit scheme was illegal under Commonwealth law, after Coca-Cola Amatil, Schweppes and Lion sued the territory government.

The 10¢ deposit scheme was similar to the one running in South Australia since the 1970s, which predates kerb-side recycling collections.

While consumers took to the streets and social media to express their anger last week, in the past few days the tactics have become more sophisticated.

A group called Out of Order has mobilised to hit Coca-Cola where it hurts with a campaign of civil disobedience – encouraging citizens to stick "out of order" notices on Coke-owned machines (which includes the Mount Franklin bottled water brand).

It's been gaining traction over the weekend and so far about 100 photos have been uploaded to the Out of Order Facebook page showing tagged machines from Alice Springs to Sydney's Fox Studios.

Coke is the natural target not just because of its market power but because Lion doesn't sell most of its products through vending machines and Schweppes stocks its products in generic vending machines.

Coca-Cola director of media and public affairs, Sally Loane, says the company has plans in place to deal with social media protest.

"We do not support activities that inconvenience consumers and cause our business partners to lose revenue and do nothing to effectively progress the debate," Loane says. However, she adds the company has not seen a "significant impact" on sales.

Loane says Coca-Cola has invested $450 million in making its PET bottles more lightweight reducing the carbon footprint of the bottles by 20 per cent, and supports the NT Bin Network to increase the availability of out-of-home recycling bins in commercial centres.

"We do not oppose recycling, we oppose container deposit taxes," Loane says.

Coca-Cola puts forward its argument against the container deposit scheme here – its chief complaint is that the system is expensive and undermines kerb-side recycling collection.