Chi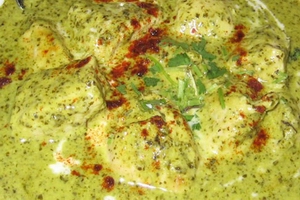 cken Hariyali is boneless chicken meat with paste made from cilantro, mint, and green chilies. While cooking Chicken Hariyali, do not add the cilantro-mint paste too early. Cooking cilantro-mint paste longer will lose fresh cilantro and mint flavor.

Ingredients

1 lb boneless chicken (1 inch cubes)

Marinade
½ cup cilantro-mint paste (3 to 1 ratio)
½ cup yogurt
1 tablespoon garam masala
1 tablespoon ghee
1 teaspoon ginger (optional)
1 teaspoon garlic (optional)

Sauce
½ cup half and half (¼ cup cream)
1 cup cilantro-mint paste
1 stick cinnamon (dalchini)
1 tablespoon ghee
½ cup chopped onions
3 green chilies (change according to preference for hotness)
few cloves (optional)

Garnish
Sprinkle with pinch of paprika or cilantro/mint leaves
1/3 teaspoon salt or salt to taste

Preparation

1 Make paste of 1 and ½ cup cilantro leaves and ½ cup mint. Please try not adding water while blending.
2 Marinate 1 inch cube of chicken in cilantro-mint paste, garlic, ginger, garam masala, ghee, and yogurt for at least 1 hour or more.
3 Heat ghee and cook chicken in medium-high heat for few minutes minutes. Frequently turn.
4 Lower heat to medium. Add chopped onions, green chilies, cinnamon stick, few cloves. Cook for few minutes.
5 Lower heat to medium-low. Add half and half (or cream). Add cilantro-mint paste and simmer for few minutes. Make sure not to overcook the cilantro-mint paste.
6 Serve hot with basmati rice.