A Spanish s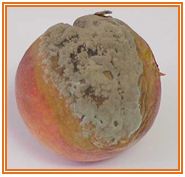 cientists have evaluated the efficacy of microwave treatments in controlling Monilinia fructicola growth on peaches and nectarines with different weights and maturity level.

The study was conducted on 'Roig d'Albesa' (245±10g) and 'Placido' (215±10g) peaches and 'Big top' (170±10g), 'September red' (210±10g) and 'PP-100' (215±10g) nectarines. Microwaves powers tested ranged from 5 to 20 KW and the treatment times tested ranged from 34 to 120 seconds.

After 5 days of incubation at 20°C and 85% RU, the scientists evaluated the brown rot incidence on treated and untreated fruit, furthermore they evaluated:
the effect of fruit weight and maturity level on efficacy of microwave treatments in controlling the brown rot of both naturally and artificially inoculated fruits;
the effect of microwave treatments on fruit quality.
Microwave treatments at 17.5 KW for 50 sec and 10 KW for 95 sec resulted the most effective conditions to control the brown rot. The fruit weight influenced significantly the efficacy of microwave treatment only in the case of 'Placido' peaches microwave-treated at 10 KW for 95 sec, in which the brown rot was better controlled in smaller fruit.

For all tested varieties, the maturity fruit level did not affect the efficacy of microwave treatments. The brown rot incidence was significantly reduced to less than 14% in infected and treated fruit compared to untreated fruit, in which the brown rot incidence was higher than 45%.

In addition, fruit firmness was not negatively affected by microwave treatments, even the scientists observed a delay in fruit softening. However, an internal damage was detected around the stone, especially in the smallest fruit, in which high temperatures were reached at the end of the selected microwave treatments.

Table - Brown rot reduction, internal and external temperature at the end of microwave treatments at different powers and exposure times in 'Big Top' nectarines artificially inoculated with Monilinia fructicola at 103 conidia mL−1 24 h prior to microwave treatment. Fruit was incubated for 5 days at 20 #C and 85% RH. Brown rot incidence in untreated fruit was 86 and 40% in the first and the second experiment, respectively. External visual appearance was not affected by any microwave treatments. Means with the same letter for each experiment are not significantly different (P < 0.05) according to LSD test.

The scientists conclude highlighting the need of further investigations on microwave heating that is responsible for internal fruit damage, thus the authors should improve the microwave heating by immersing fruit in water during treatment, by using an intermittent heating or by rotating the fruit inside the microwave oven.