Velcro Industries, with it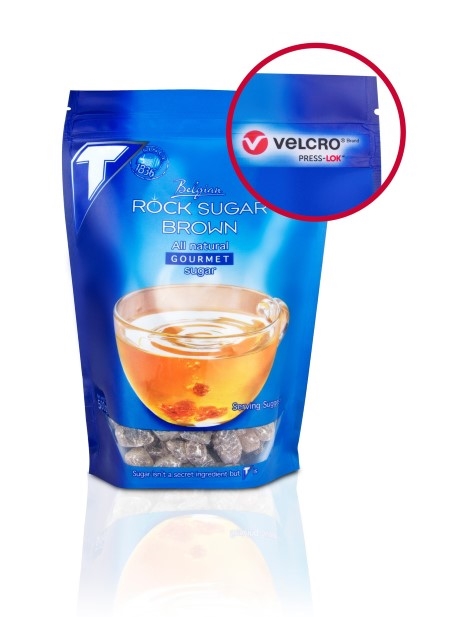 s commitment to creating smart products, services and technologies wherever things can be connected, announced that T-Sugars, the brand of Raffinerie Tirlemontoise for the non-European market, has integrated VELCRO® Brand PRESS-LOK® closures into its packaging.

T-Sugars' gourmet brown rock sugar pouch will now feature PRESS-LOK® closures, improving both shelf presence and customer convenience. First launched in Singapore, the rock sugar bags will soon be launched in Europe as well.

Raffinerie Tirlemontoise is the first company worldwide to launch a sugar pouch featuring the VELCRO® Brand PRESS-LOK® reclosure system. Recognizing a need for packaging differentiation, the company has decided to move some of its products from traditional paper wrapping to flexible plastic packages with the PRESS-LOK® closure. Because the PRESS-LOK® closure minimizes misalignment with a series of interlocking micro features that connect at multiple levels, even after repeated use, the PRESS-LOK® technology provides consumers with an intuitive closure for secure storage. T-Sugars' new packaging was created by Amcor Flexibles Porto, part of the Amcor group, a global leader in responsible global packaging solutions.

"Our PRESS-LOK® closure is becoming exceedingly relevant on a variety of applications within the consumer packaged goods market as brands look for unique ways to deliver their product to consumers," said Jurjen Jacobs, Vice President of Global Marketing & Innovation, Velcro Industries. "Velcro Brand's commitment to excellence is reflected in the quality of our products and we are pleased to partner with Raffinerie Tirlemontoise to deliver PRESS-LOK®-enhanced packaging to multiple regions."

"T-Sugars is focused on providing top-quality products and we have chosen to incorporate VELCRO® Brand PRESS-LOK® as it is an intuitive and consumer friendly closure that will help consumers store our sugar in a more hermetic/convenient way," said Laurie Anciaux, Brand Manager at Raffinerie Tirlemontoise.