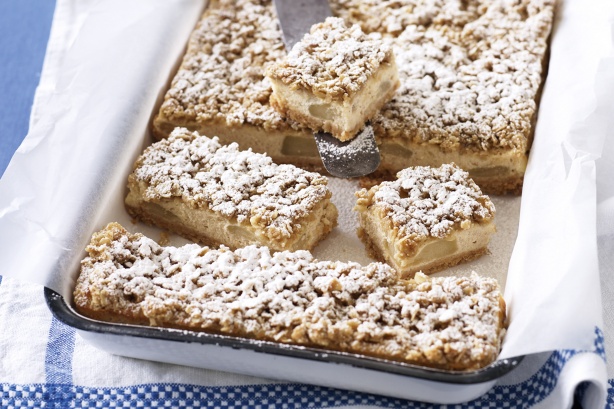 Ingredients

• 400g can pie apple slices, chopped
• 250g Arnott's Nice biscuits, halved
• 125g butter, melted
Filling
• 2 x 250g packets cream cheese, chopped, softened
• 2/3 cup caster sugar
• 3 eggs
• 1 teaspoon ground cinnamon
• 1 cup rolled oats
• 1/4 cup plain flour
• 1/4 cup brown sugar
• 50g butter, chilled, chopped

Method

1. Grease a 20cm x 30cm lamington pan. Line base and sides with baking paper, allowing a 3cm overhang. Drain pie apple on paper towel.

2. Preheat oven to 160°C/140°C fan-forced. Process biscuits until mixture resembles fine breadcrumbs. Add butter. Process until combined. Press mixture over base and side of prepared pan. Refrigerate.

3. Meanwhile, make filling: Using an electric mixer, beat cream cheese and sugar until smooth. Add eggs, 1 at a time, beating until combined. Fold apple and sifted cinnamon through mixture. Pour into prepared pan. Place pan on a baking tray.

4. Place oats, flour and sugar in a bowl. Rub in butter until combined. Sprinkle over filling.

5. Bake for 30 to 40 minutes or until just set (cheesecake will wobble slightly in centre). Turn off oven. Cool cheesecake in oven for 3 hours with door ajar. Refrigerate overnight. Serve.