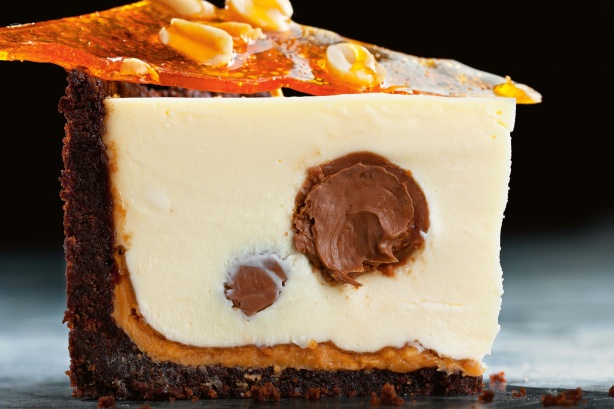 Ingredients

• 350g plain chocolate biscuits
• 150g butter, melted
• 70g (1/4 cup) crunchy peanut butter
• 500g cream cheese, 
at room temperature
• 125ml (1/2 cup) thickened cream
• 270g (1 1/4 cups) caster sugar
• 200g white chocolate, melted
• 60ml (1/4 cup) boiling water
• 2 tsp powdered gelatine
• 2 x 250g pkts Lindt Lindor Peanut Butter balls
• 55g (1/3 cup) roasted salted peanuts

Method

1. Grease the base and side of a 20cm 
(base measurement) springform pan and 
line with baking paper.

2. Process the biscuits until finely crushed. 
Add the butter and process until well combined. Use a straight-sided glass to spread and press the mixture firmly over the base and side of prepared pan. Place in the fridge for 30 minutes to chill.

3. Spread the peanut butter evenly over 
the biscuit base.

4. Process the cream cheese, cream and 
55g (1⁄4 cup) of the caster sugar in a food processor until smooth. Add the chocolate. Process until well combined.

5. Place the boiling water in a small heatproof bowl. Sprinkle gelatine evenly over. Stir until gelatine dissolves. Add to the cream cheese mixture and process until well combined.

6. Arrange half the Lindt balls over the peanut butter. Pour over half the cream cheese mixture. Arrange remaining Lindt balls over cream cheese mixture and top with remaining cream cheese mixture. 
Place in the fridge for 6 hours or until set.

7. Line a baking tray with baking paper. Sprinkle with the peanuts. Place the remaining sugar in a saucepan over medium-high heat. Cook, stirring, for 5 minutes or until sugar dissolves and caramelises. Pour over the peanuts on 
the lined tray and set aside to set.

8. Place the cheesecake on a platter. Break toffee into large shards and arrange over 
the cheesecake to decorate.