Heinz is set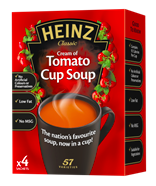 to grow the dry cup soup market with the launch of three of its iconic soup flavours.

Emulating the flavours of its Classic canned soup range, the new cup soup varieties will consist of Cream of Tomato, Cream of Chicken and Vegetable.

Aiming to attract families into the category by offering convenient lunch and snack options from a brand they already know, the Heinz Cup Soup range has been carefully developed to offer consumers great-tasting soups that have a thick consistency, as well as being full of flavour.

Unlike some other cup soups, the new varieties contain no MSG (monosodium glutamate), are low in fat, are less than 100 calories per serving and contain no artificial colours or preservatives.

Hitting shelves from 7th July and available at RRP £1.19 per pack of four sachets, the Cup Soup range will be supported by a £1million national TV campaign, PR and in-store activation including sampling and coupons across a variety of supermarkets.

This significant investment, in a category which has had limited ATL support over the last five years, will help drive shoppers to the fixture.

Sarah Davies, Brand Manager, said:

"We are committed to growing the instant soup category and believe that the new Heinz Cup Soup range can help unlock further growth.

"For example, we know there are currently 8.6million Heinz wet ambient soup consumers who don't currently buy into the instant soup market.

"We believe that by offering their favourite soup in a convenient format, we can help bring new consumers into the category."

The Cup Soup market is worth £102million and has grown 39% over the last four years.

Heinz currently has a 67% value share of the UK wet ambient soup market which is worth £324million.