Heinz ha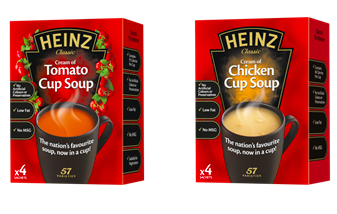 s announced the launch of its new Heinz Cup Soup range, which allows consumers to enjoy the flavours of the Heinz Classics canned soup range wherever they are without the need for saucepans or microwaves.

Unlike many alternative cup soups, Heinz Cup Soup contains no MSG (monosodium glutamate), is low in fat and offers less than 100 calories per serving – but offers the taste experience of Heinz Classics Soups.

The range contains no artificial colours or preservatives and are low in sugar.
The brand new range consists of three classic Heinz flavours: Cream of Tomato, Cream of Chicken and Vegetable.

Each variety comes in handy-to-use sachets which are designed for popping in a handbag for a low calorie lunch at work – or a quick snack at home.

Crafted to provide a thick consistency, Heinz Cup Soup hopes to make it easy to enjoy soup, any place, any time.

The new Heinz Cup Soup will be available in stores nationwide on the 7th July, for the RRP of £1.19 per pack of four sachets.

The Heinz Cup Soup packs draw on the familiar design of Heinz Classics canned varieties to make them easy to find on shelf.