Cooled potatoes anticipate the need for fresh convenience products. The segment has grown considerably in recent years. The products also serve more and more as a source of inspiration for the versatility of potatoes, which, moreover, are no longer consumed only during the traditional evening meal.
For Quik's Potato Products, innovation is an important motivator. With new potato products, the producer of cooled potato products and specialities wants to continue to positively surprise consumers. "The combination of convenience and flavour comes first, but above all, we want to show how diverse the options of potatoes are," Peter Quik says. "So much more is possible than just chips. To make that versatility known, inspiring is very important." Peter refers to the nationwide campaign 'Power to the Pieper' (Power to the Spuds) to promote the potato as well. "In the end, we as an entire sector hope to increase consumption of potatoes."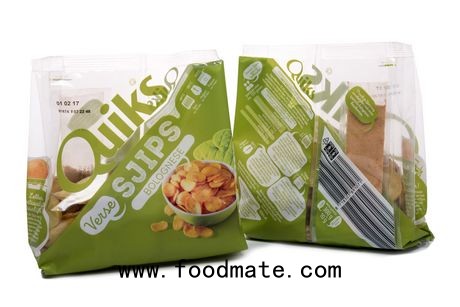 The changing eating habits have also not escaped Quik's Potato Products. Recently, Quik's Potato Products introduced the new product Sjips. With this product, Quik's responds to user-friendliness, but also allows space for its own interpretation and taste experience. "With Sjips, we want to claim the moment of sociability. What can be more fun and delicious than making your own crisps and eating them together while they're still fresh and warm? Opening a bag of crisps is very ordinary, but Sjips are different. By baking and seasoning the product, Sjips truly becomes an experience." With the product, the producer is also looking for a connection with other eating moments. For example, Sjips is very well suited to a club sandwich or as a crispy snack with a stew. "We want to let consumers decide for themselves when to eat potatoes."
Sjips can be prepared in the oven, air-fryer or deep-fryer and is available in the flavours Salt and pepper, Bolognese and Bell pepper. The 2-in-1 packaging of JASA Packaging Systems is what makes this new product special. With this patented packaging solution, various products are packed cleanly and separately in two separate compartments during one production run. In the case of Sjips, the potato slices are placed in the main compartment, and the herbs in the second one.
Another new product is Hasselback Potatoes. This recipe is from 1940, and was created by a Swedish chef. The name comes from the restaurant in Stockholm where the product was first served. Peter: "Hasselback Potatoes are small crunchy potatoes in a fan of waver-thin slices which are soft on the inside. The potatoes have been flavoured with black pepper and sea salt. We offer the product ready-to-eat. Consumers or users in food service only have to finish baking them in the oven." He says that oven and grill products are popular in any case. The producer has also added sweet potatoes to their range. "A hip, but especially healthy product that closely connects to our vision of healthy and natural eating. We offer, among other things, unprocessed sweet potatoes in an aluminium oven dish with a special herb mixture."
Inspiration per eating moment
Why only eat boiled potatoes during the traditional evening meal, when there are so many more options? With the inspiration potatoes from PolderGoud, it's been made easy for consumers to cook a tasty meal with potatoes. Potato wholesaler Schaap Holland supplies packaged potatoes and cooled potato products to European food service and retail under brand name 'PolderGoud.'
"A few years ago, we noticed that certain themed flyers on, for example, barbecues and gourmet, never mentioned potatoes. We seized on this by introducing special Barbecue and Gourmet potatoes," Moniek Wisse from Schaap Holland says. By now, the assortment of Inspiration potatoes has been expanded by the variants Wok, Asparagus, Tapas, Oven, Slices and Small new potatoes. With it, the producer doesn't just anticipate other eating moments, but also other uses of the product. "We've noticed it's really catching on. It's important that the product fulfils the promise. For instance, our Gourmet potatoes have been completely pre-cooked, because the pans in general aren't hot enough to finish completely cooking a potato," she explains.
Benefits of cross-selling
Another thing that's helpful, according to her, is a good presentation in supermarkets. As far as Moniek's concerned, these products aren't placed on the convenience shelves with the cooled potatoes, but next to the barbecue meat and the briquettes. "That's when consumers will be inspired and buy the product. Fortunately, we see supermarkets are arranging their shelves based on eating moments increasingly often. Products that suit each other are presented next to each other. Our PolderGoud inspiration potato is ideal for second placement." She mentions the asparagus season as an example. By presenting asparagus, asparagus potatoes and a tasty sauce next to each other, consumers are immediately inspired, and they are offered all convenience to pick up all of the products in one go. "That now mostly still happens with promotional actions, but we expect presentation based on eating moments to become much more important in future. Cross-selling is interesting to both producer and retailer."
All inspiration potatoes are completely cooked to ensure a quick and easy preparation. The products are also free from E-numbers and allergens so that everyone can eat them. "These potato products are perfect to enjoy together. Groups of people almost always have at least one person with an allergy, but that's not a problem. Moreover, the tapas potatoes are a healthy alternative during drinks. Above all, the inspiration potatoes taste good. Just a good flavour can seduce consumers to put potatoes on the menu more often."

In-depth catch-up for healthier preparation
The health trend is really something to keep in mind, according to Lai Cheng, Trade Marketeer Retail of Peka Kroef. The producer of cooled potato products for food service and retailers is increasingly focusing on reducing artificial additives during preparation. Peka Kroef has released a number of saltless products, among other things. Salt reduction has become an important focus in the other lines, in any case. "In food service, we also see that the reduction of E-numbers plays a major role, and allergies are increasingly being taken into account. Not so much by mentioning it on packaging, but by producing products as free from allergens as possible. Think of gluten-free, nut-free, and so on. We are looking for specific herbs that fit into an allergen-free diet in order to exclude fewer people. This concerns the herbal mixtures especially."
It's often thought healthy products should be marketed as naturally as possible, but according to Lai, there are many more aspects that can be looked into. "We are working hard to catch up all aspects. Society is struggling with obesity and welfare diseases. An increasingly larger group of people is consciously about healthy food, but there are still a lot of people who just do not know what they are eating. As a producer, we feel called upon to get involved. Personalised food will play a bigger role in future. For us, this is still one step too far, but we want healthier nutrition for the people who do their shopping now, or who are eating out."

Stews have made a comeback
Another trend Lai sees is sharing and enjoying and looking for other eating moments. People eat out for breakfast and lunch increasingly often. Potatoes for breakfast may not seem obvious, but according to her, there are definitely opportunities here. "Our oven preparations also fall within sharing and enjoying. Convenience, a healthier alternative to frying, and during cooking in the oven, there's time for pleasant conversation. Furthermore, we see volumes shifting from cooking to boiling. Stews take up an important share in this regard. In recent years, stews in many variations have made a complete comeback. This can also be seen on the shelves for cooled potatoes with the so-called mealy stew potatoes. With the help of retailers and foodies, consumers are inspired to discover which opportunities exist, but the assortment of stews in food service is also becoming ever-larger and more varied."