Researchers at Thammasat University have unveiled a new process for coating durians to maintain peak freshness and eliminate pesky odour problems while the king of fruits is en route to markets.
The "Active Coating" technique was developed by a team in the faculty of science and technology under Assoc Prof Woraphat Luckanatinvong.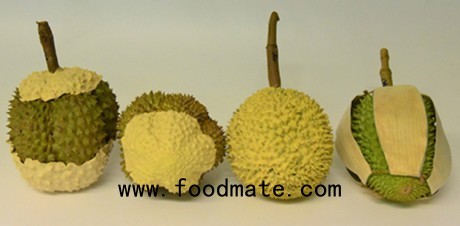 It will allow durian growers to pick the fruit at the peak of ripeness. The freshness and flavour can then be maintained for up to two weeks while the popular fruit is shipped to markets overseas, Associate Professor Woraphat said on Tuesday.
Development of the durian coating had taken a couple of years. The project was initiated by Prakasit Chumcheun, an undergraduate student.
The process is 100% effective in preventing the durian skin from cracking and its strong odour from spreading, while greatly maintaining the quality of the durian pulp. Importantly, applying the coating will cost the durian grower only 2-3 baht per fruit, Assoc Prof Woraphat said.
Adding to the good news for farmers, he said that, although the Thammasat team had patented the process, it was offering advice on the technique to durian growers free of charge.
The coating is 2 to 3 milimetres thick and for best results - to prevent the skin cracking and maintain pulp quality – a coated fruit should be kept at 23°C to 27°C with relative humidity of 55% to 65% throughout the transport period.