After having been active in mushroom cultivation for years, Koert Pleunis and his wife chose free entrepreneurship in 2009. Pleunis Mushrooms focuses on the organic cultivation of the exotic mushrooms shiitake, eryngii and maitake, which the company sells to both domestic and foreign trade partners. The grower made a conscious decision not to enter the market for white mushrooms. "This cultivation is smaller, less hectic, and there are more opportunities to be distinctive. Margins are small in white mushrooms, and the company needs to be large. We'd rather focus on the niche markets."
In total, Pleunis Mushrooms produces about 40,000 kilograms of shiitake, 40,000 kilograms of eryngii and 5,000 kilograms of maitake annually.
"The shiitake cultivation has become more and more well-known in the Netherlands, thanks to cookery shows. In Germany, the eryngii mushroom is very popular, and that production is increasing considerably for us. The maitake, on the other hand, is still very much unknown, and it's a challenge to get it sold on the fresh market. It's an enormously healthy mushroom, which is also used as a food supplement in the medicinal world. We started this cultivation on a small scale, because we thought it'd be fun to offer a new product to the trade. It's important to always have product available, so that trade partners can rely on you. We now grow about 100 kilograms per week," Koert says.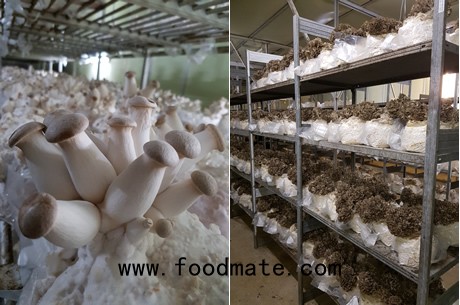 He has been taking care of sales in-house from the founding of his company. "We don't supply directly to supermarkets and restaurants, but always through trade partners. We do our own exporting abroad," the grower explains. So far, he's satisfied with 2017. "The market was actually good for a fairly long time. Normally, prices start slumping after Easter, but sales continue to do well because of the colder weather. Shiitakes are still selling well, but because of the warmth, the rest of the sales started slumping somewhat two weeks ago. But we anticipate that. We always have a somewhat calmer period up till September. Additionally, we also have some trade in forest mushrooms now."
The grower from Stramproy, the Netherlands, is facing the future with confidence. "The popularity of exotic mushrooms is increasing. People are cooking more and more consciously. We have noticed a bit more competition, also from foreign suppliers. We're now renting more cells, but we would like to become more professionalised, and will build new cells to stay a leader for now."