Figures show that around one third of the food produced in the world is lost or wasted, and a huge amount of losses can occur at early stages of the food value chain, due to faulty transportation and storage.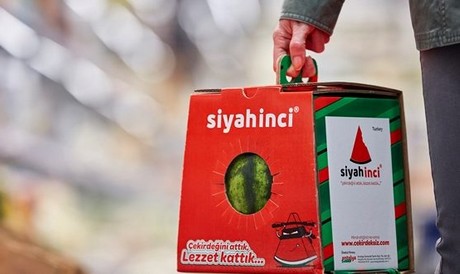 The Watermelon's Dream project from Mondi in Turkey is looking to solve this problem. As part of the project, rectangular packaging was created with a window showing the product packed inside.
Mondi claims that the shape helps saves transportation costs by allowing 50% more watermelons to be shipped in one truck. Another benefit is convenience, with the new design it is easier for consumers to carry their watermelon home from the supermarket.
Mondi also looks forward to increased shelf appeal along with branding opportunities with the larger printing area and product display. The concept was successfully launched in Turkish supermarkets and is now available for the global market.
Hasanali KOÇ, general manager at Antalya Seracılık, said: "The new packaging from Mondi provided a smart pick-and-go solution which simplifies transportation and storage of watermelons, both for retailers and consumers, and still looks great on the shelf. We are delighted with the new functional design also because we managed to reduce the food waste in the supply chain by 13%."