A new digital firmness meter for onions will be demonstrated at the 2018 Dutch National Onion Day. This event will be held in Colijnsplaat, the Netherlands. This meter was developed by two Dutch companies - onion seed supplier, De Groot and Slot, in collaboration with machine manufacturer, Machinefabriek Jan van de Velde.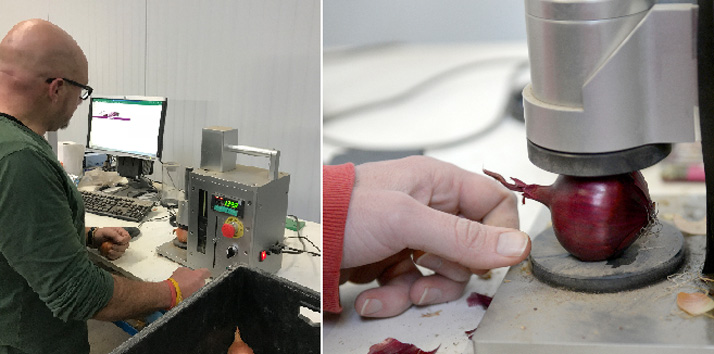 Development
De Groot and Slot have screening fields all over the world. Samples of test onions from these fields are measured for firmness. More than 400 specimens are also taken, on an annual basis, from commercial onion fields in the Benelux region. All these measurements need to be recorded quickly and precisely. De Groot and Slot, together with Machinefabriek Jan van de Velde, therefore, developed this new firmness tester. It is the first digital onion firmness meter.
Developing a machine such as this takes time. Many different points of view were needed to arrive at a good product and protocol. The Centre for Innovation and Knowledge in Onions (UIKC), therefore, also became involved with the process during the machine's developmental stage. In consultation with each other, a suitable protocol was developed for the use of this firmness meter.

Sales
Machinefabriek Jan van de Velde is ready to enter the market with this innovation. With the digital firmness meter, the whole chain can determine onions' firmness in the same manner.
Do you want to see this digital firmness meter? Please visit the De Groot and Slot stand at the 2018 National Onion Day. It will be held on 30 August in Colijnsplaat. Here, you will get a detailed explanation as well as a demonstration.