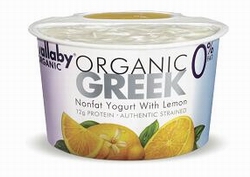 Wallaby Yogurt, a US-based producer of organic yogurt, has unveiled Wallaby Organic Greek Nonfat Yogurt, a nonfat addition to the company's Greek lowfat yogurts.

The new Organic Greek Nonfat Yogurt is available in various flavors such as Lemon, Mixed Berries, Peach, and Raspberry.

Wallaby plans to gain a larger share of the Greek yogurt market with the launch of its new line of Organic Greek Nonfat Yogurt.

Organic Greek Nonfat Yogurt, is available in Whole Foods Market across the nation. It is priced at $1.99 for 5.3oz and 6oz sizes while the 16oz and 32oz sizes are available for $3.99 and $6.99 respectively.

Wallaby Yogurt manufactures and distributes organic yogurt. It offers European style organic cultured sour cream, organic low fat yogurt, and organic nonfat yogurt and distributes its products through health food stores, co-op markets, and supermarkets, as well as whole food markets in the US.