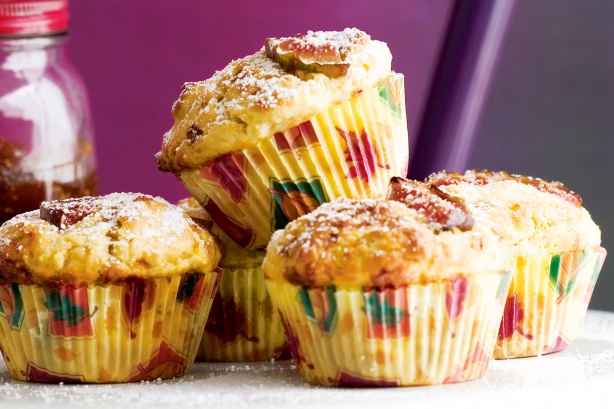 Ingredients

•
1 2/3 cups (250g) plain flour

•
1 tablespoon baking powder

•
1/2 teaspoon bicarbonate of soda

•
2 tablespoons each caster sugar and brown sugar

•
60g unsalted butter, melted, cooled

•
1 tablespoon grated orange zest

•
1 cup (250ml) buttermilk

•
1 egg, lightly beaten

•
1/2 cup easy fig jam (see related recipe)

•
2 fresh figs, sliced

•
I
cing sugar, to dust

Method

1. Preheat the oven to 200°C. Line 12 holes in a muffin pan.

2. Sift flour, baking powder, bicarbonate of soda, caster sugar, brown sugar and 1/2 teaspoon salt into a large bowl. In a separate bowl, combine the melted butter, orange zest, buttermilk and egg.

3. Add egg mixture to dry ingredients, then fold together until just combined. Spoon 2 tablespoons batter into the base of each muffin pan. Add 2 teaspoons fig jam to each, then top with the remaining batter. Top each muffin with a slice of fig.

4. Bake the muffins for 18-20 minutes until light golden brown and a skewer inserted in the centre comes out clean. Dust with icing sugar and serve.