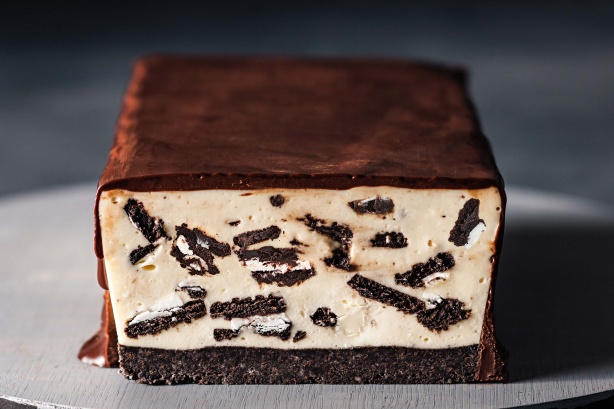 Ingredients

• 2 x 150g pkts Oreo Classic biscuits
• 70g unsalted butter, melted
• 2 tablespoons boiling water
• 1 tablespoon gelatine powder
• 500g cream cheese, at room temperature
• 155g (3/4 cup) caster sugar
• 125ml (1/2 cup) thickened cream
• 1 teaspoon vanilla extract
Chocolate ganache
• 100g dark cooking chocolate, finely chopped
• 60ml (1/4 cup) thickened cream

Method

1. Line a straight-sided 7cm-deep, 9.5 x 19.5cm (base measurement) loaf pan with baking paper, allowing 2 long sides to overhang.

2. Process half the biscuits in a food processor until finely crushed. Add the butter and process until well combined. Spread the biscuit mixture firmly over the base of the pan. Chill for 30 minutes or until firm.

3. Meanwhile, place water in a heatproof bowl. Sprinkle with gelatine. Place bowl in a larger bowl half-filled with boiling water. Set aside, stirring often, for 5 minutes or until gelatine dissolves. Cool slightly.

4. Process cream cheese, sugar, cream and vanilla in a food processor until smooth. Add the gelatine mixture. Process to combine. Pour into a bowl. Quarter remaining biscuits. Stir into cheese mixture. Pour into pan. Smooth surface. Chill for 6 hours or until set. Transfer to a plate.

5. For ganache, place chocolate in a heatproof bowl. Bring cream almost to the boil in a small saucepan over medium-low heat. Pour the cream over the chocolate. Set aside for 5 minutes, then stir until smooth. Set aside for 10 minutes to cool slightly.

6. Pour the ganache over the cheesecake.