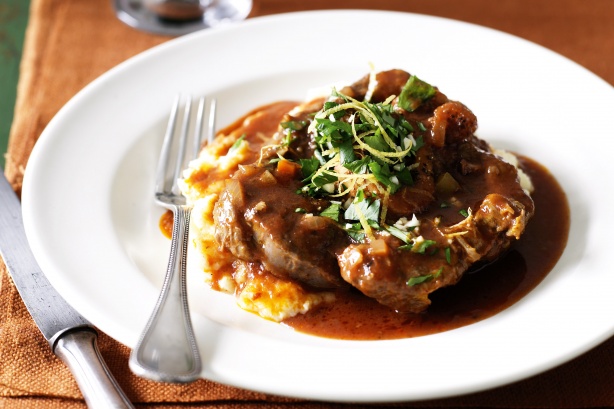 Ingredients

• 2 tablespoons plain flour
• 8 (about 1.5kg) veal osso buco
• 1 tablespoon olive oil
• 2 brown onions, finely chopped
• 1 carrot, peeled, finely chopped
• 1 celery stick, finely chopped
• 2 garlic cloves, crushed
• 1 cup (250ml) dry red wine
• 2 cups (500ml) tomato sugo (tomato sauce)
• 1 cup (250ml) beef stock
• 2 sprigs thyme
• Mashed potato, to serve
Gremolata
• 1/4 cup chopped flat-leaf parsley
• 2 teaspoons finely shredded lemon rind
• 1 garlic clove, finely chopped

Method

1. Preheat oven to 150°C. Place flour on a plate. Dip each piece of veal into the flour and turn to coat. Shake off any excess.

2. Heat oil in a flameproof casserole pan over medium-high heat. Add veal and cook for 2 minutes each side or until golden brown. Transfer to a plate. Add onions, carrot, celery and garlic to the pan and cook, stirring, for 5 minutes or until onion softens. Return veal to the pan with wine; bring to the boil. Reduce heat to low. Add sugo, beef stock and thyme. Remove from heat.

3. Cook in preheated oven, covered, turning occasionally, for 2 hours or until meat is falling off the bone.

4. To make gremolata, combine parsley lemon rind and garlic in a small bowl.

5. Spoon osso buco among serving plates. Sprinkle with gremolata. Serve with mashed potato, if desired.