Blueberries are luscious little berries with dark blue skin. Because they're good for you, blueberries top the list of healthy fruits and berries, and I think I've seen them on every superfoods list I've ever reviewed.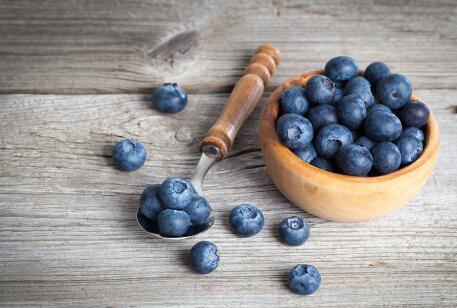 Want to know more? Here are some great reasons why you should be eating blueberries.

Blueberries Are Antioxidant-Rich
Plant compounds called phytochemicals give blueberries their beautiful color and also function as antioxidants. That means they help prevent free-radical damage to cells. Antioxidants are thought to have a variety of health benefits — at least when you eat them in the form of food. Taking antioxidants as supplements doesn't seem to work as well.

Blueberries Are Nutritious
Blueberries are an excellent source of B-complex vitamins your body needs to convert food to energy and vitamins C and E that add more antioxidant activity. Blueberries have plenty of minerals too — including potassium, selenium, zinc, iron, and manganese.
Blueberries Are Low in Calories
One full cup of fresh blueberries has only about 80 calories, which is great for your waistline. They're a good source of fiber so nibbling on some blueberries can help tide you over until your next meal without ruining your diet.

Blueberries Are Easy to Find
Blueberries are often compared to goji berries and acai, which are a little more exotic, difficult to find and more expensive. Blueberries, however, are much easier to find in any grocery store — and they're available year round. You'll find fresh blueberries in the produce section. Look for berries that are plump and dark in color — avoid blueberries that are shriveled or moldy. Blueberries are also available in the freezer section.

Blueberries Are Delicious
My first four reasons you should eat blueberries aren't of much value unless you're willing to eat them. But that's the easy part -- they're so tasty. They can be served as a simple dessert with a little whipped topping and chopped nuts or added to a bowl of hot or cold cereal. Blueberries also make a great addition to a healthy salad and can be used as in ingredient in some recipes.
Healthy Blueberry Recipes
Look for recipes that aren't too high in sugar or fat and that call for healthy ingredients like whole grains, other fruits and vegetables and lean protein sources. Try some banana, blueberry, and walnut spelt bread.
Nutrition Information for Blueberries

The following nutrition information comes from the United States Department of Agriculture's massive nutrient database. It's for one cup of raw blueberries.
Macronutrients
Water: 122.10 grams
Calories: 83
Protein: 1.07 grams
Carbohydrates: 21.01 grams
Fiber: 3.5 grams
Sugars: 14.44 grams
Total Fat: 0.48 grams
Saturated Fat: 0.041 grams
Monounsaturated Fat: 0.068 grams
Polyunsaturated Fat: 0.212 grams
Cholesterol: 0 milligrams
Micronutrients
Calcium: 9 milligrams
Iron: 0.41 milligrams
Magnesium: 9 milligrams
Phosphorus: 17 milligrams
Potassium: 112 milligrams
Sodium: 1 milligrams
Zinc: 0.23 milligrams
Vitamin C: 14.1 milligrams
Thiamin: 0.054 milligrams
Riboflavin: 0.059 milligrams
Niacin: 0.606 milligrams
Pantothenic Acid: 0.180 milligrams
Vitamin B6: 0.075 milligrams
Vitamin B12: 0 micrograms
Folate: 9 micrograms
Vitamin A: 78 International Units
Vitamin E: 0.83 milligrams
Vitamin K: 28.0 micrograms
Phytonutrients
beta-Carotene: 46 micrograms
beta-Cryptoxanthin: 0 micrograms
Lycopene: 0 micrograms
Lutein and Zeaxanthin: 116 micrograms