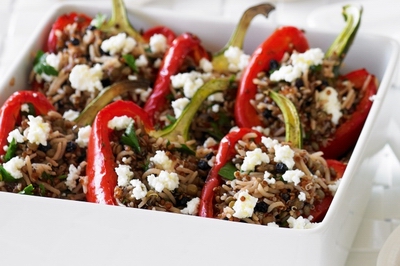 Ingredients

• 6 red capsicums, halved lengthwise, seeded, stems left intact
• 1/2 bunch thyme
• 6 cloves garlic, thinly sliced
• 125ml (1/2 cup) extra virgin olive oil
• 200g (1 cup) basmati rice
• 190g (1 cup) red quinoa (see note)
• 200g (1 cup) French-style green lentils
• 55g (1/3 cup) currants
• 60ml (1/4 cup) white wine vinegar
• 1/2 lemon, juiced
• 1/2 tsp Spanish smoked paprika
• 1/2 tsp ground cumin
• 1/4 cup roughly chopped flat-leaf parsley
• 100g feta, crumbled

Method

1. Preheat oven to 220C. Place capsicums, cut-side up, in a roasting pan. Scatter with thyme and one-third of the garlic, then drizzle with 2 tbs oil. Season with salt and pepper. Roast for 30 minutes or until tender. Discard thyme.

2. Meanwhile, place rice and quinoa in a bowl, cover with cold water and set aside to soak for 15 minutes.

3. Cook lentils in a saucepan of boiling salted water for 15 minutes. Drain rice and quinoa, then add to lentils with remaining garlic. Cook for 15 minutes or until lentils, rice and quinoa are tender. Drain.

4. Meanwhile, place currants, vinegar, lemon juice, paprika, cumin, parsley and remaining 80ml (1/3 cup) oil in a large bowl. Season and stir to combine.

5. Add rice mixture to currant mixture and toss to combine. Spoon into roast capsicums and scatter with feta. Serve immediately or keep in a container in the fridge for up to 1 day.