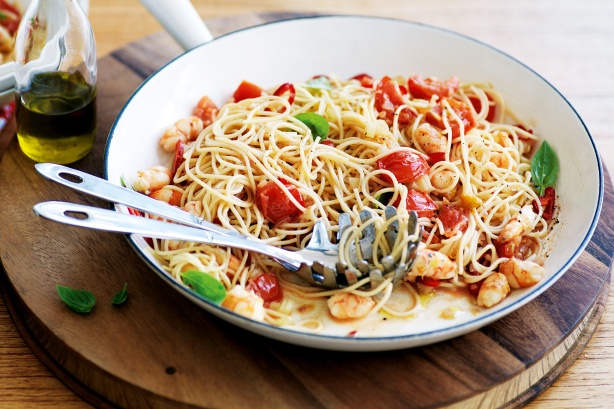 Ingredients

• 20 medium green king prawns
• 2 tablespoons olive oil
• 1 red onion, finely chopped
• 2 cloves garlic, thinly sliced
• 1 stalk celery, finely chopped
• 275g cherry truss tomatoes, halved
• 1 cup basil leaves or rocket
• 1 long red chilli, seeded, thinly sliced
• 1 lemon, zested, juiced
• 400g dried capellini (angel-hair pasta)
• Extra virgin olive oil, to drizzle

Method

1. Peel and clean prawns, then cut into thirds.

2. Heat oil in a large frying pan over high heat. Add onion and garlic, and cook for 4 minutes or until the onion is softened. Add prawns, celery, tomatoes, half the basil, chilli, lemon zest and juice, and cook, stirring occasionally, for 5 minutes or until prawns are just cooked. Season with salt and pepper, then remove pan from heat.

3. Cook pasta in a large pan of boiling salted water until al dente. Drain well and reserve 2 tablespoons cooking water.

4. Add pasta to prawn mixture and place over medium–high heat. Add reserved cooking water and cook, tossing, for 3 minutes or until warmed through and well combined.

5. Divide pasta among warmed bowls, top with remaining basil and season with freshly ground black pepper. Drizzle with extra virgin olive oil and serve immediately.