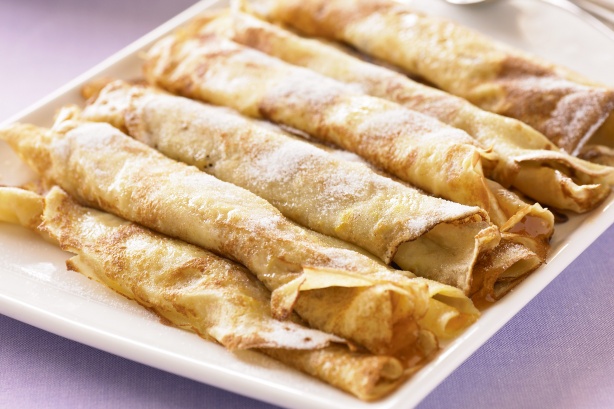 Ingredients

• 3 eggs
• 1/3 cup caster sugar
• 2 cups plain flour
• 2 cups milk
• 1 large orange, juiced
• 1 lemon, rind finely grated
• 1 1/2 tablespoons vanilla sugar
• 1/4 cup olive oil
• 1/2 cup apricot jam

Method

1. Using an electric mixer, lightly beat eggs and caster sugar on medium speed until combined. Add 1/2 cup flour, 1 tablespoon at a time, beating well after each addition. Slowly add remaining 1 1/2 cups flour and milk alternately until batter is smooth. Reduce mixer speed to medium-low. Add orange juice, cold water, lemon rind, vanilla sugar and a pinch of salt. Beat until batter is smooth.

2. Heat an 18cm (base) crepe pan or frying pan over medium heat. Brush pan with a little oil. Pour 2 1/2 tablespoons batter into centre of pan and swirl to coat base. Cook for 1 to 2 minutes or until base is golden. Turn and cook for 30 seconds. Transfer to a plate. Repeat with remaining batter, greasing pan between crepes.

3. Spread 1 teaspoon jam over 1 crepe. Roll crepe up tightly. Repeat with remaining crepes and jam. Layer crepes on serving platter. Sprinkle with remaining caster sugar. Serve.