Rachel's has an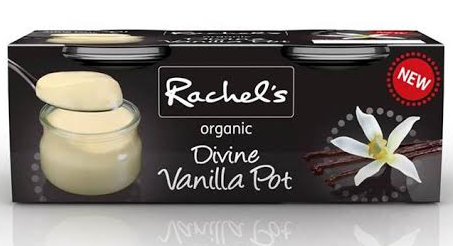 nounced the launch of its first ever organic Divine Desserts range, arriving in Waitrose and Sainsbury's stores from late August 2014.

Rachel's new indulgent desserts are made using fresh, organic ingredients and no artificial flavourings or preservatives.

Presented in individual glass ramekins which can be re-used after eating, the new desserts are available as a pack of two, designed for sharing.

Divine Desserts are available in two delicious varieties:

Divine Chocolate Pot – A combination of organic chocolate, milk and cream, the chocolate pot has a melting texture and a rich, chocolate flavour.

Divine Vanilla Pot – A blend of vanilla with a smooth texture.

Sophie Giraudel, brand manager at Rachel's, said:

"The addition of Rachel's Divine Desserts brings another dimension to the Rachel's brand, presenting an exciting opportunity for us to leverage our expertise in the dairy sector as we expand into the desserts segment.

"Following the success of Rachel's Divine Rice; our new desserts range provides shoppers with a different way to enjoy Rachel's straight from the fridge, incorporating the very same passion, care and organic ingredients as all Rachel's products.

"Such innovation brings fresh opportunity for us to capitalise on the moments of indulgence we know everyone looks forward to, whilst keeping our consumers engaged and excited by the Rachel's brand."

Rachel's new range is available from Waitrose and Sainsbury's, priced at a RRP of £1.99 for a pack of two.