New chocolatie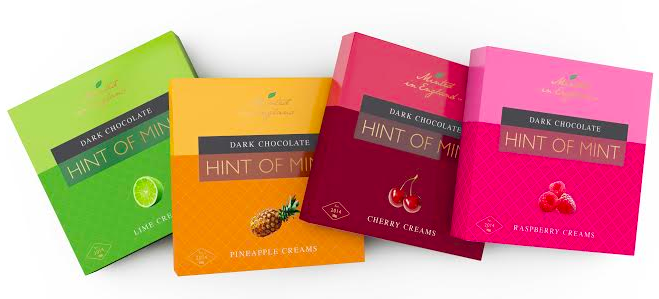 rs on the block, Minted in England, has launched its brand new premium range – 'Hint of Mint'.

'Hint of Mint' will launch at the Speciality Fine Food Fair (7th – 9th September 2014) at London Olympia.

'Hint of Mint' will launch with four different fruit mint flavoured creams, in boxes of 10 individual pieces; Raspberry, Black Cherry, Lime, Pineapple.

Minted in England is the brain child of founder Steve Gilston, who had a craving for a raspberry mint cream while in the bath in Thailand.

After living all over the world and regularly seeking out classic British products on foreign soils, he found that no such flavour profile existed.

Steve Gilston, Founder, Minted in England said:

"This product is all about taste.

"We have engineered a new way to balance creamy fruit with the delicate notes of mint which gives the chocolate a truly extraordinary body.

"We aim to give consumers a more varied choice when exploring the chocolate sector. I am delighted to launch this new concept to the market."

Minted in England continues to combine the traditional British art of blending cool 'peppermint' and dark chocolate, whilst incorporating fresh fruit flavours to provide a delightfully exquisite treat.

The chocolates are made using premium and carefully selected ingredients and are all manufactured in the UK.

Minted in England is founded on excellence and has a goal to provide high quality creams to enhance the taste experience in a static market.