According to Fujian Provincial Department of Ocean and Fisheries, 2016 China (Fuzhou) International Fisheries Expo(FIFE) would start its journey between 3rd June to 5th June in Fuzhou Strait International Conference & Exhibition Center. More than 500 enterprises from 33 countries and regions would exhibit more than 2, 000 kinds of products, bringing a special and fantastic experience to visitors' tip of tongue.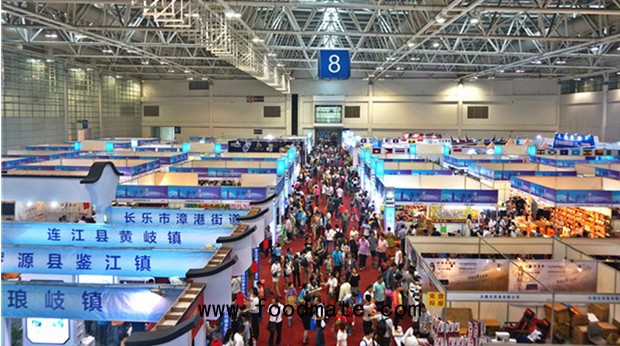 It's known that there would be a total of 8 large exhibition areas in the Expo, including Fujian modern fishery brand hall, international exhibition areas·Taiwan exhibition, aquatic comprehensive exhibition, natural aquatic product exhibition, fishery equipment exhibition, fishery e-commerce exhibition, Fuzhou goldfish and aquarium fish exhibition and ocean recreational fishery exhibition. And in international exhibition area of No. 8 exhibition hall "Maritime Silk Road" exhibition would be specially held to display Chinese characteristic culture of Sea Silk Road. The sponsor would also add special hall for Mazu (a district located in Taiwan), in which visitors could taste the delicious sailfish balls, milkfish balls, sailfish yusong(dried fish floss), milkfish yusong, big-size giant grouper, snakehead fish roe and so on. "Oceangoing hall" would display the new development of some major projects like "shipbuilding enterprises forge maritime castle" and "transform inshore fishing into international fishery base", and new peculiar seafood from deep sea would also make their debut in the hall. Anyway, natural global pollution-free oceangoing seafood would swim to visitors' dining table in the Expo.
A host of theme activities would also be carried out during the exhibition. National Seafood Cooking Skills Competition, one of the activities looked forward to by national gourmets, has already received 400 cooks with their pupils and entrepreneurs to take part in the match. The global gourmets could also join the China Catering Industry Procurement & E-Commerce Convention to enjoy the fine food feast.
As the sailing start port and cradle of Chinese oceangoing fishery, Fujian provincial pelagic fishing has already expanded to three vast oceans and dozens of countries after 30 years of practice and development. Its comprehensive development strength of oceangoing fishery and oversea aquaculture development scale all lead the whole country. In recent years, the influence of Fuzhou fishery in China has rapidly grew and the position of fishery capital of brand has been gradually set up. According to Fujian Provincial Department of Ocean and Fisheries, abutting and implementing oversea fishery base, cross-border e-commerce, oceangoing shipbuilding and other fishing and ocean-related projects were also the aim of the Expo.
Fuzhou International Fisheries Expo(FIFE) has already been successfully held for ten years and ranked among the top three large international fisheries Expos. This year's Expo was sponsored together by Ministry of Agriculture, Fisheries Bureau of the People's Republic of China, Fujian Provincial Department of Ocean and Fisheries, Taiwan Affairs Office of Fujian Provincial People's Government and Fuzhou Municipal Government, cohosted by Fuzhou Municipal Department of Ocean and Fisheries and Fujian provincial fishery industry association.