Grufesa, a company out of Moguer (Huelva) that produces and markets berries, has designed a special line of new formats of strawberries that will soon be launched on the market to celebrate Valentine's Day. Both products are aimed at couples and single people, and they bear the company's stamp of innovation.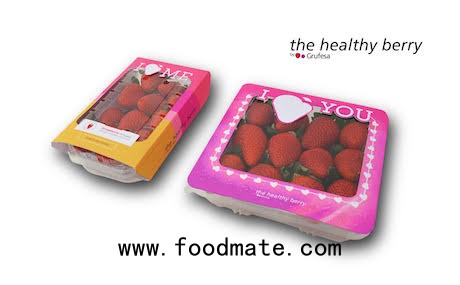 These two limited edition packages, which were specially designed for Valentine's Day and can also be purchased as a gift at any other time of the year, will be present at the next edition of the Fruit Logistica fair in the company's stand B-03a (Hall 18). These formats are a new addition to their products and Grufesa's goal is to immediately satisfy consumer expectations for a natural, tasty, and healthy fruit in an increasingly demanding, segmented market that is eager for new dining experiences.
The first product comes in a 400 gram format, and it is a perfect gift to share on Valentine's Day. Consumers will find the phrase 'I love you' printed on the pack, where Love is replaced by a heart-shaped strawberry. This format responds to the Grufesa strategy of providing customers a more satisfying and beneficial experience. It offers added value as it is recyclable. It can be used as an original picture frame where lovers can insert their most romantic pictures to celebrate Valentines.
Grufesa also innovates with their second 250-gram format, which is aimed at individual consumers. The company created this second format to respond to the expectations of all the consumers - even those who don't celebrate Valentine's Day. This format has 'I love me' printed on it and consumers will find a funny message encouraging them to enjoy strawberries and Valentine's Day in a different way in it.
Both formats also have The healthy berry printed on them, which identifies and distinguishes all of Grufesa's brand. They are easily transportable to be consumed directly - any where, any time. They were designed with recyclable materials and according to sustainability criteria that characterize the company's sales catalog and its commitment to the environment.
"Following the success of their previous LOVE formats, Grufesa continues to innovate and be original as it is a hallmark that has helped us become a benchmark for the industry. We came up with a new proposal for couples and another alternative proposal for single people so that everybody can celebrate this special occasion in their own way," said the manager of Grufesa, Carlos Cumbreras. He also stated that companies had to differentiate themselves, not only by having the best fruit and the best quality, but also by updating and renewing these formats. "Consumers are increasingly more demanding. That's why we focus on attractive packaging that appeals to their emotions, offers added value, and highlights the innovative label that identifies and distinguishes us," he said.
These two new proposals consolidate Grufesa's bet in recent seasons of innovating in their wide range of strawberry formats for different costumers and occasions, such a colour-in format for children; or a collection of packages designed for special dates, such as Easter.