Westerway Raspberry Farm is a family-run business in the Derwent Valley that supplies fresh and frozen raspberries, blackcurrants, blackberries and other seasonal fruits to the juice, cordial, ice-cream and jam markets – as well as local farmers markets, independent shops and its very own farm gate shop.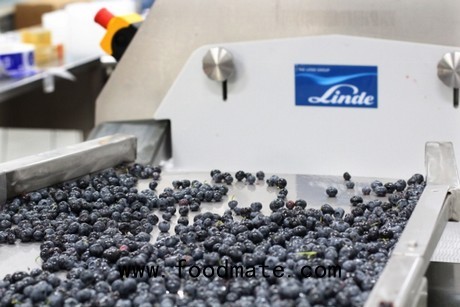 For more than 20 years, the Clark family has focused on expanding its product line beyond fresh berries. After investing in mechanically harvesting technology to supply processing berries to juice customers, their attention turned toward setting up a processing facility to better process frozen berries for new markets.
Richard Clark, Owner of Westerway Raspberry Farm said: "The cryogenic freezer tunnel installed by BOC produces individually quick frozen (IQF) berries that retain the taste, flavour and texture of a fresh berry. The first season we produced 8,000 kilograms of frozen berries – next season we plan to quadruple this."
The challenge
With demand for berries on the rise in Australia, Westerway Raspberry Farm knew getting into the untapped market for individually frozen berries would give them an opportunity to supply their high quality Australian berries all year around.
"Our biggest competitors are located overseas, with many frozen berries now imported from Asia, Eastern Europe and South America. We knew we had the strong food safety standards and enough supply to compete in this market, however we lacked the technology to really differentiate our product from the others."
"The blast freezing we were doing previously would not achieve the desired efficiency or quality to grow the business – so we decided that individually quick frozen (IQF) product using a liquid nitrogen freezer tunnel would be a better option."
The biggest challenge was then raising the capital to fund this new technology.
The solution
After receiving a $260,000 Coles Nurture Fund grant, the team worked with BOC to install a Linde CRYOLINE MT 5-600 quick freezing (IQF) tunnel and an 8,000 litre liquid nitrogen vessel.
"The berry season is very short, kicking off in December and running till early February – so when the grant was approved in September, BOC's technicians worked very quickly to get it installed and commissioned in time."
Diversification
Since installing the tunnel, Richard believes his business is more dynamic and diverse – with the individually quick frozen (IQF) berry range giving the business an edge and plenty of room for growth.
"As we produce more high quality Australian-made frozen berries, we will be able to get more packets into Australian supermarkets and businesses – offering a more stable price and shelf life of up to two years.

Quality
When it comes to producing a quality frozen berry, Richard explains that using liquid nitrogen coupled with IQF technology has achieved superior results than blast freezing or ammonia-based freezing.
"With liquid nitrogen, there is less cell damage with the berry as the water freezes rapidly. With blast freezing, you tend to get ice crystals that break the cell membrane – and you lose form and get a squishy product.
"This technology has enabled us to retain the taste, texture and flavour when the frozen berry is thawed – and most importantly, give Australian customers a high-quality local choice in the freezer aisle of the supermarket."