Seeka in conjunctio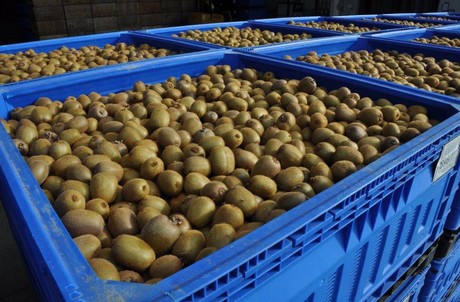 n with TCI New Zealand limited have developed and deployed a new plastic bin for use in the horticultural industry.

The bin called Surestore was been in development for 5 years and in a commercial testing program over the last 3 years. Significant design features had been developed through this trialling process. Features of the bin include a steel side beam within the sidewall that adds to safety and prevents side bowing when the bin is strapped to a truck. Base wooden runners prevent slippage on the deck of the truck.

The bin is a component bin in which the sides and base innovatively clips together to produce a large rigid bin. If a side is damaged then replacement is a simple job and the complete bin when full delivers low racking. Component bins meant that the parts could be manufactured in New Zealand.

Alongside the bin - Seeka has developed a punnet system that is used for picking more delicate crops [like kiwiberry] and the fruit is picked into punnets that snuggly stack within the confines of the Surestore system.

3000 bins were deployed commercially in 2014, the first year of operation. Initially the first bins were deployed for kiwiberry and then more recently for kiwifruit. Michael Franks, Seeka Chief Executive, outlined that the bin had performed very well and had delivered some unexpected benefits. Fruit that had been trucked in the bin over long distances from orchard to packhouse had shown remarkably less travel damage than the conventional wooden bin. And the bin dimensions resulted in less tractor movements within the orchard and less truck movements between orchard and packhouse.

Seeka will deploy more bins in 2015 and already stonefruit operators within New Zealand had expressed interest in trialling the bin for their upcoming harvest later in the year as part of a commercialisation plan.