China Resourc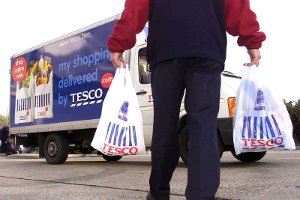 es Enterprise Ltd. forecast a "significant" profit decline in 2014 after posting earnings that missed estimates on China's weaker economy and austerity campaign as well as loss-making Tesco Plc stores.

China Resources, which completed its retail partnership with Tesco in May, said it may cut jobs, close 10 per cent of overall retail shops and slow expansion during integration with the British retailer, Chief Financial Officer Frank Lai said at a press briefing today, without elaborating.

"The speed of the turnaround will depend on the macro-economic environment," said Anson Chan, a Hong Kong-based analyst at Daiwa Capital Markets who forecast a 7-per-cent decline in net income in 2014. The company will need to control labour and rental costs at the Tesco stores and improve their economies of scale for purchasing, he said.

Hong Kong-based China Resources, which runs hypermarkets and coffee shops, and makes the world's largest-selling beer with SABMiller Plc, said a slowing economy and the government's anti-extravagance measures had impacted consumer spending. China's economic growth slowed to the weakest pace in six quarters in the first three months of 2014 before picking up to 7.5 per cent in the April-June period from a year earlier.

Tesco Turnaround

The company's shares fell 2.9 per cent to HK$23.25, the biggest loss since 26 May, extending this year's losses to 9.7 per cent. The benchmark Hang Seng Index has gained 7.2 per cent this year.

China Resources posted a 34-per-cent decline in underlying profit to HK$668 million ($86.2 million) in the six months ended June, below the average estimate of HK$831 million from three analysts compiled by Bloomberg. The underlying figure excludes the effect of asset revaluation and major disposals.

"We need time in the short to medium term during the running-in period to turn around the performance of the Tesco stores in China which are currently loss-making and to integrate those stores with our other supermarket businesses," the state-backed company said in the statement. Increasing competition from the e-commerce industry will also hurt profitability, it said.

Under the deal, Tesco's 134 outlets and shopping-mall businesses will be added to China Resources. The hypermarket chain will be renamed CR Vanguard gradually within two to three years and the venture is expected to break even in three to five years, Lai said today. Tesco China's operations made 800 million to 1 million yuan loss last year, he said.

China Resources had a net cash of HK$1.4 billion as of June, Lai said.