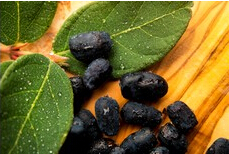 Leading UK soft fruit supplier, CPM, is gearing up to launch an exciting new 'superberry', rich in antioxidants, which will be available in the UK for the first time mid-June next year.

Blue Honeysuckle, also known as Haskap, has a tangy flavour cross between a blueberry, blackberry and raspberry and will only be available for a maximum of four weeks from farms in the UK from next June.

It has at least double the nutraceuticals compared to other berries, according to recognised research from the University of Saskatchewan in Canada in cooperation with Dalhouse University. The berry also has 60% the RDA of vitamin C in a single handful as well as three times the iron content of a blueberry and twice that of a strawberry.

The berry is already being grown under contract in Poland and to complement this, CPM is growing it with a number of its partner UK growers, which will increase in availability over the next three years.

Begnat Robichaud, Commercial Director at CPM, specialist soft fruit supplier to the UK market and supplier of UK Blue Honeysuckle, said:

"This is a really exciting development for the berry industry in the UK, firstly for the berries' health qualities, and secondly, it looks and tastes different to the current offer.

"Blue Honeysuckle grows well in the UK due to cold winters and rainy spring weather.
The fruit is tangy in flavour, which makes it great on its own, or as a refreshing addition to juices or smoothies. It's also ideal for use in jams, chutneys, syrup or an ingredient within home baking.

"But, you'll have to be quick off the mark – Blue Honeysuckle berries have a short harvesting window and are only available to buy fresh for 3-4 weeks. However, there are new varieties being planted, which should enable seasonal extension in a few years."

The oblong-shaped fruit, which is dark blue in colour, originates from Japan, where it's celebrated via 'Haskap Day' and is recognised as the 'elixir of life'. Its literal translation is 'the many presents on the branch'.

Bob Bors, Head of the Fruit Program at the Department of Plant Sciences, University of Saskatchewan and Principal Investigator of research paper 'Breeding and Selecting Haskap for Nutraceutical and Agronomic Sustainability', said:

"In our research, released earlier this year, over 15,000 Blue Honeysuckle seedlings were field evaluated, with the best intensively evaluated in lab tests and additional field studies.

"Antioxidant testing, in cooperation with Dalhouse University, rated our varieties highest in antioxidants compared to other berries and grapes. Additionally, we discovered that some varieties have three times more nutraceuticals than other Blue Honeysuckle varieties. This is a fantastic health benefit as it means we could easily breed an even healthier berry that could surpass the already high levels that Blue Honeysuckle has achieved.

Blue Honeysuckle is set to be available in selected stores mid-June 2016, following the UK harvest. Click here to learn more.