In the mind of the traditional consumer, watermelons represent summer. But as cultivation techniques develop, we not only see the rise of seedless easy-to-eat watermelons, but also the emergence of a year-round supply.
"The production of off-season seedless watermelons in Liaoning is about to end. The seedless watermelons of Shandong though, are about to hit the market in full scale. It is estimated that the season will continue until mid-November. After that, regions in the South such as Guangxi and Hainan will start to harvest. The season here will last until March next year. The summer melons will continue from then on," says Mr. Fan, from Shandong Qingzhou Fanhongli Melons and Vegetables Professional Cooperative.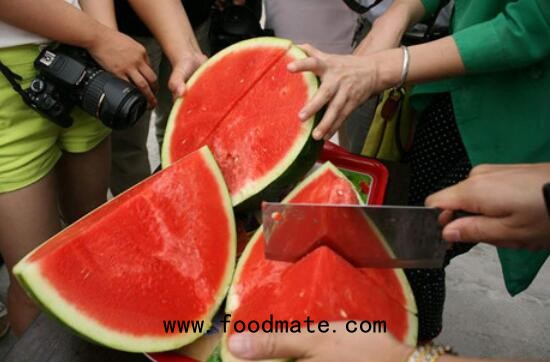 "Even though the weather is rather dry this year, the seedless watermelons of Shandong are still grown in greenhouses. The irrigation uses well water, so the production volume isn't influenced much by the weather. The same goes for the quality. We have already sent out some of the melons to sell in Southern regions, like Hunan and Shenzhen. The reaction is good. Currently the buying price for large quantities is falling back a bit. Prices are at 2.6 RMB per kg."
"Our Fanhongli Melon and Vegetable Professional Cooperative has been around for 20 years. Because we border Shouguang county, the cooperative not only sells the self-produced fresh fruits and melons, but it also buys in large quantities and sells to the whole country. Comparing watermelons with grapes, our seedless watermelons are easier to eat and contain higher amounts of anti-oxidants. So they are even healthier. Moreover, we are busy with large quantities of chilli peppers, aubergines and carrots. Whoever is interested can contact us."